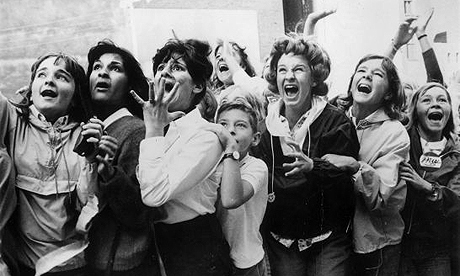 Steel Burkhardt
Big freaking surprise here, right? The Mick loves him, we know this. But this summer (of love) he's back on Broadway in Hair, and, dare we say it… giving his Broadway predecessor, Will Swenson, a run for his money. Also, he's ridiculously beautiful, has a sick body and an awesome tattoo, and apparently he even smells really, really good. There is literally no downside, here. Get into it.
Andrew Rannells's Twitter
We see what you're doing over there on Twitter, Andrew Rannells, with all your sly humor. His observations — on everything from meeting Oprah to finding Lea Michele's graffiti under his dressing table — get the one-eyebrow-continually-raised treatment, and it's hilarious. Follow him. And you might as well watch his Twitter, because you can't get tickets to his show.

Getting Wasted on Frozen Lemonades at Blockheads
Sure, there are lots of great shows happening at New World Stages right now — including Rent and Avenue Q — but our favorite thing about World Wide Plaza is happening outdoors. There is no better way to while away a sunny afternoon (or evening) than camped out on the plaza at Blockheads, downing their blissfully strong and cheap frozen drinks and people watching. Just make sure you wear sunblock. You might not be feeling much after a few vodka spiked frozen lemonades, but your hangover will be bad enough without the sunburn.

Broadway Shows that Aren't On Broadway Yet
Who needs Christian Bale? OK, fine. You do. But the promise of a staged Newsies has left us breathless with collective anticipation since we were 10 years old. That's a long time to wait. So you can imagine our pent-up excitement over the Papermill Playhouse production, which opens in the first weeks of September. Bonus points: Jeremy Jordan is playing Jack. Also opening out of town, Diane Paulus/Susan Lori Parks's production of a non-operatic (?) Porgy and Bess, which basically has the Greatest Cast of Any Musical of All Modern Times. Audra. Norm Lewis. Josh Henry. We are already on the train to Boston.
Aaron Tveit's Thighs
There is only one thing on God's green earth that could make us thankful for sweltering heat, and that is Aaron Tveit's thighs. And bum. And general physique in a pair of shorts. So even if it means we have to continue seeing that particular pair of dreadfully acid-washed khakis, we say, "Turn it up!" Here's hoping the temperature soars.
Broadway Stars on TV
Here's the body count for the next few months: Patrick Wilson, Jennifer Ehle, Marin Ireland, Christian Borle, Megan Hilty, Brian D'Arcy James, Idina Menzel, Kristin Chenoweth and of course, Lea Michele. John Gallagher, Jr. left Jerusalem this week to film an Aaron Sorkin drama that's anticipated for 2012, and we're sure Hollywood execs will find more reasons to put Cheyenne Jackson on the boob tube, preferably in several shows at the same time. We're obsessed. Now we just need to find someone who has a TV…
The Possibility of Seeing Jay A. Johnson Play Frank Abagnale Jr.
We love Aaron Tveit. We do. But secretly, we're dying to see his understudy in Catch Me If You Can. After his luminous performance in Pool Boy at the Barrington Stage last summer, we just cannot wait to see what Jay A. Johnson will do with Frank Abagnale Jr.. Maybe Aaron could take a much-needed day off? You know, to stroll around outside looking glorious in his shorts? Rest assured, if and when he does, we will drop everything and sprint over to the Neil Simon to catch Jay's sure-to-be-wondrous performance.
Reg Rogers
We called it last month. With two big roles at Shakespeare in the Park, Reg Rogers is basically the hottest thing happening on stage this summer. His ability to deliver Shakespeare's tongue-twisting comedy, and to bring hilarious physicality to that comedy, is disgustingly, uncomfortably hot. You have to see it. No, seriously, get your ass over to the Delacorte before time runs out.
The Park Raccoon
It was maybe the best entrance of the season. Halfway through the opening night performance of Measure for Measure at Shakespeare in the Park, a fat, fearless raccoon strutted across the stage, right in the middle of the scene. The audience gasped. A star was born. And you know what happens immediately after a star is born, right? He gets a Twitter. @ParkRaccoon has been cracking us up with tales of his wanderings around the Delacorte Theater, his aspirations to fame and fortune, and what it's like to wear fur all summer.
Gavin Creel in Pippin
Yeah yeah, it's not happening. Not yet, anyway. But we're fangirling the mere possibility that Diane Paulus will revive this sucker, thanks to YouTube videos showing Gavin singing the shit out of "Corner of the Sky" on Seth Rudetsky's radio program. Amazingly, Gavin states on the video that the song is a bit of a musical theater cliché at this point. Well, not when you sing it like that…