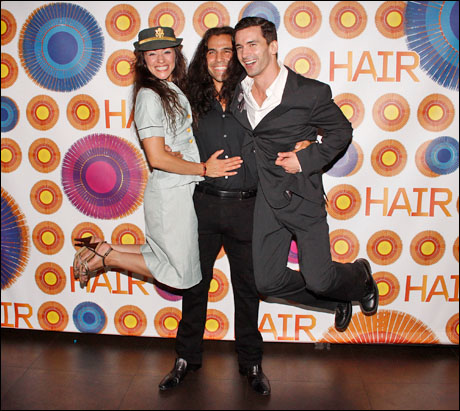 What? Hair Summer of Love 2011 Opening Night, July 13th 2011
Where? The St. James Theater and Sky Bar
With whom? Jordan Roth, Oskar Eustis, Diane Paulus, James Rado, Will Swenson, Audra McDonald, Ato Blankson-Wood, Maya Sharpe, Sasha Allen, Allison Case, Theo Stockman, Lea Michele, Anthony Hollock, Megan Reinking, Jackie Burns, Ryan Watkinson
Talking Points
Star Steel Burkhardt's immediately identifiable parents—seriously, his father has the same hair, only…silver—strolled into the theater just behind us.  The best part?  They were seated in the front row, just so Steel could introduce them to the audience in the opening bit.  You guys! His Mom really was there! (And she grabbed his ass when he hugged her! Adorbs!)
Jordan, crown prince of the family Roth, sat in the same row as us in the theater, and was looking dapper in a light suit, because that's basically what he does besides running the world and having an awesome Twitter.
Oskar Eustis was there, too. Looking exactly like Oskar Eustis.  You know, wearing a great suit that was almost completely eclipsed by his crazy lion's mane of hair?  Like that.  It was hard to keep ourselves from following his every step, just so we could be always near the sound of his beautiful voice.
So many tribe members! Aquarius, Starshine, Where Do I Go, oh my!  Sitting in the orchestra and watching members of past tribes filter in to fill the seats around us was really freaking awesome.  Watching them watch the show was even better… Former tribe members cheered on the new cast members in their tracks with extra enthusiasm, making for an even more amazing audience experience than usual.  And, alright, we confess to being sort of smushy about seeing new and old casts interact at the after-party.  Our hearts may have melted a tiny bit.
How do you know you have an epic Broadway celeb sighting on your hands? The conversation goes something like this:
The Mick: There's Theo Stockman.
Lucky: Alone?
The Mick: Nnnnope.
TV's Lea Michele turned up on opening night with her boy, Broadway's Theo Stockman, who was a member of the original tribe. They mostly kept a low profile, but Lea did take time to say hello to some (very!) enthused young fangirls and boys. They were no-shows at the afterparty. Wah wah.
Our hearts and ovaries melted a little bit during the show's curtain call when Caryn Lyn Tackett, who's playing Sheila, jammed during the dance party with her wee little girl, who knew all the lyrics to "Let the Sunshine In". Say it with us: Aaawwww.
Bloody Bloody Andrew Jackson bandleader – and Cutest Person of Life – Justin Levine turned up for the festivities. Besides being The Cutest Person of Life (Have you seen this boy's eyes? Goodness.), he's also more or less the most awesome young theater composer we can even think of. (Sorry Adam Guettel, you've graduated.) We only hope that Justin's next Broadway opening night party is for his own show.
Director Diane Paulus hung out on the terrace at Sky Bar in her long dress, chatting it up and looking every inch the artist and hippy we like to imagine she is.  No, but seriously, she looked beautiful. And vibrant.  And ready to get Gavin Creel back on the New York stage.   (Okay, maybe that last part is wishful thinking. Ahem, Pippin.)  We want to be just like her when, and if, we grow up.
It only took a few hours and several trips to the bar to make it happen, but, The Mick talked to Steel.  And she's pretty sure she didn't say anything ridiculously offensive. (He DID kind of set her up when he asked if there was anything he could to do make sure our post on the show was positive. But she managed to avoid the quicksand of perversion happening in her brain and instead… tactfully change the subject.)  Steel was lovely, and charming, and gave no indication that he was in any way terrified of her and her hyper-sexed dialogue on this website.  Another positive? This put the biggest, craziest, most un-sinkable smile on her face.  She even giggled like a schoolgirl.  Which gave Lucky the perfect opportunity to laugh at her for several minutes straight.
Photo: Joseph Marzullo