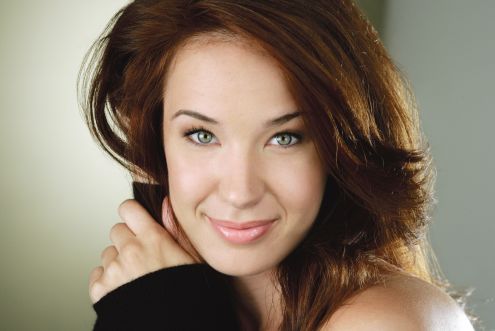 The lovely and talented Sierra Boggess has played some badass leading ladies, from Ariel to Christine Daae. Now, in this season's revival of Master Class, her character is going toe-to-toe with one of the formidable leading ladies of all time — Maria Callas. Sierra chatted with us about her co-star Tyne Daly, the rewards and perils of singing opera, and her Pound Puppy collection, among other things…
L: How's Master Class going so far?
Sierra: It's awesome. It's so great to get to work with Tyne Daly and get to do a role that I never imagined I would be doing, and singing in a style that I had never learned before. So it's been a fascinating learning experience and I've been enjoying myself so much.
L: Was there any intimidation factor working with Tyne Daly? Clearly, her character in the show is supposed to be intimidating.
SB: The play definitely sets that up, but Tyne Daly and Maria Callas — well, Callas how Terrence McNally has written Maria Callas — are two very different people. She is so loving and so supportive, and not threatening at all. I was just excited to get to work with someone who is so on her game. The hard part for me was that the character I play immediately goes up against Callas. So I was kind of like, "We just met, Tyne. But I'm gonna yell at you now." That was the only thing that took some adjusting.
LM: What was the prep like for you? Have you sung opera before?
SB: No, I'm not opera trained at all. I have a natural coloratura, and I've always been interested in opera. But I never imagined I would sing opera, let alone do a Verdi aria, which is quite difficult. Our director Stephen Wadsworth has directed with the Met, and he teaches at Juilliard. So I got to work with a man at the Met and I got to work with two different teachers at Juilliard, including Stephen. And then I have an amazing voice teacher who I've been studying with since I was 17 years old. So I just took a lot of lessons and really worked on it. I had a dialect coach for the Italian. It was like being back in school again. And I was terrible in school! I was not good at the academic stuff. I loved drama class and did really well in that, but other than that — no. So going back to school was so great, especially to be in a place now where I'm like, "Yeah, I want to learn."
L: Is the immediate prep, at the theater, different than if you were in a musical?
SB: I don't ever do massive warmups, but with this I just always make sure that my my highest notes are there. But the intention of the aria — because the character singing it is Lady Macbeth — sort of takes care of the gusto all by itself.
L: Have you ever taught master classes yourself?
SB: Yes, I love teaching master classes. I've done a lot of them, actually, and it's one of my favorite things to do. I have such vivid memories of my own master classes. I met my voice teacher in a master class when I was 17 and it changed my life. It's the reason why I'm on Broadway. That's such a vulnerable age and having her believe in me at that point in my life was the thing that launched me forward. And I've also had some bad master classes where the teachers were frustrated actors who weren't doing what they want to do, and were threatened by the kids in the class. They'd tell you that the world is really rat-infested and that New York is the most difficult place ever. I'd never would want to teach a class like that. I'd never want to discourage people from their dreams. So [teaching] is something that I really enjoy.
L: Besides your voice teacher, do you have any other teachers who inspired you in your life?
SB: My high school drama teacher. I honestly believe that drama class saved my life. It was so difficult for me to want to be in school. To have an outlet in my drama class, was the best thing in the whole world. That teacher's name is Nancy Priest, and she was the drama teacher at the high school I went to for thirty years. She was the most extraordinary teacher and I think she probably saved a lot of kids.
L: So you've been Christine Daae twice – in Vegas and London. How were those experiences similar and different?
SB: Playing Christine was the first leading lady role that I did professionally. It was an amazing experience to originate that particular company because I go to work with Andrew and with Hal Prince and the original creative team from The Phantom of the Opera. It was a brand new production in Vegas, so that was really thrilling. And I'm going to go back and do the role again for the 25th anniversary concert. It's been so fun working on that. I haven't played Christine from the original Phantom in so long, and now after having done the mature version of her in Love Never Dies, I have to remember who this frightened, 18 year-old girl is. So much has happened in my life since then, so I hope that brings more colors to the part. But I love Phantom. I love that show, and Love Never Dies, and singing that music.
L: Having done Master Class, do you think you'll play Christine Daae the opera singer differently?
If I was going back into Love Never Dies, maybe. I believe that's how I booked Master Class, because I was playing someone who's become a real opera singer – a star. That's how I learned about Callas. I knew who Callas was, but Jack O'Brien was my director for Love Never Dies, and he spoke often about Callas. I would listen to her a lot and I would watch her on YouTube and see how amazing this woman is. So I'd bring Callas into my Christine in Love Never Dies. I would like, invoke her to be there with me. Because I'm faking it. I'm all fake-it-til-you-make-it. I'm not an opera singer.
L: What was it like playing Christine in Vegas? That must be a completely different kind of audience than NYC.
I didn't have anything to compare it to at the time, but I think if I was maybe doing a show like Mamma Mia out there, which was playing at the same time, they might have a different experience. But because it's Phantom, you already have a certain kind of audience that comes to see that show, no matter where it is. So I didn't really notice a difference. It was the only theater in Vegas where they didn't have cup holders in the seats. Maybe people were less drunk. Living in Vegas was really surreal experience, though. I loved doing the show out there, but living there was something else. You never see real life. It's like living in a fantasy world.
L: What was your reaction when you found out that you might be playing Ariel in The Little Mermaid?
SB: It was one of those moments, not where you jump up and down and scream, but you take it in and you want to cry. Because you say to yourself, "Of course I get to do this, because I've wanted it so much." You don't think, "Of course I've got to because I'm the best." It was like realizing the most beautiful childhood dream. I love that it's not forgotten. People that I see at the stage door still mention it. I'll always get to be the girl who originated the role of Ariel on Broadway.
L: What is your dream leading lady role?
SB: There are so many I would love to do, but right now, because I've just been in London, I want to be Eliza Doolittle.
L: What was your most spectacular onstage mishap in any show?
SB: I had a huge mishap when I was in The Phantom of the Operain Las Vegas about three weeks after we had opened. I fell into a trap door on the stage and I was literally hanging. I had to go to the hospital and my understudy had to go on. She had never gone on before. It was crazy.
L: What are some words that you think you use too often?
SB: I say "love" a lot. I love this, I love that.
L: Love is a nice word to use too often! How about words you don't use often enough?
SB: Any big words, I could probably be a little bit better at.
L: What was the last book you read?
SB: The Power of Intention by Wayne Dyer
L: Do you have a favorite mid to late 90s pop song?
SB: Any Whitney Houston song, but probably "Run to You" from The Bodyguard.
L: Did you have a favorite stuffed animal when you were a kid?
SB: Pound Puppies! I still have them. I'm staring at them right now. They're the old classic ones. My sisters and I had the big ones, but I have about 10 of the little ones. I love them.