Our favorite thing to do on a Monday night? See a searingly emotional, blazingly important new play by a famous young writer, about one of the most important political issues of our times. No big. So we did that. And then we went to the party. And here's what happened.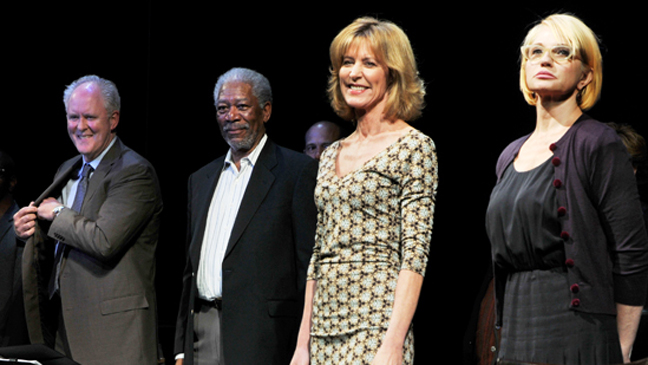 What? A one-night-only staged reading of 8, a play by Dustin Lance Black; September 19, 2011
Where? The Eugene O'Neill Theatre, decked in its Book of Mormon-ish set; Gotham Hall, decked in its high-ceilinged, Grecian columned, ballroom-y awesomeness
With whom? Brian Williams, Fran Drescher, Barbara Walters, Chase Crawford, Gavin Creel, Rory O'Malley, Gideon Glick, John Lithgow, Morgan Freeman, Ellen Barkin, Christine Lahti, Kate Schindle, Stephen Spinella, Cheyenne Jackson, Matt Bomer, Bob Balaban, Dustin Lance Black, Jayne Houdyshell, Rob Reiner, Jay A. Johnson, everyone from Broadway Impact, Anthony Edwards, Larry Kramer, Bradley Whitford, Lieutenant Dan Choi, and like a gazillion other amazing people
Talking points:
Our favorite moment of the amazingly emotional curtain call? When real-life Prop 8 plaintiff Paul Katami came onstage and hugged the actor playing him – Cheyenne Jackson. He then turned to the crowd, pointed at Cheyenne very proudly, and mouthed, "That's me!" We loved it. Also, we would have done the exact same thing.
Oh, and the after party. Did we mention that it was filled with like, basically the most beautiful people we've ever seen? That's before you even consider Matt Bomer. Speaking of which.
Matt Bomer is probably the most beautiful person of all human times.  He's so beautiful that God made sure his last name is only one letter off from Boner. We spent much of the performance watching every twitch of his beautiful eyebrows, but things only got hotter when he joined the after party in a pair of beautiful fucking glasses.  Boner held court in a far corner of the room that just so happened to be right near where we'd perched. Once he appeared, we were physically incapable of moving.
When you're stuck in a Matt Bomer Tractor Beam™ you don't move unless he does. Not even when you think you see Chase Crawford. Repeatedly. So unfortunately it took us like, 2 hours to even be certain he was there. No worries though, once we spotted the man, we didn't let him out of our sight—he was looking almost as hot as Boner!
Best conversation starter of the night? Score one for Prop 8 plaintiff Sandy Stier's son, who chatted us up, leading with "Ellen Barkin played my Mom." We're hoping he becomes a famous filmmaker someday so we can recount stories of this party ad-nauseum to our friends and family, and say we "knew him back when."
Most of the night the DJ spun the smooth stylings of Frank Sinatra and Michael Bublé.  It seemed oddly appropriate (while simultaneously seeming like the dinner hour at a wedding?). And then, everything changed. Ne-Yo happened. And 30 Seconds to Mars or some shit? We don't even know. It was bizarre.  And amazing. And along with our new friends we tried to start a dance floor.  It's a shame that failed.
Fact: Jay A Johnson may be the sweetest man in theater.  The Mick accosted him as he was trying to leave because she absolutely HAD to tell him she loved Pool Boy and she thinks he's going to be a huge STAH.  He was disgustingly darling as she gushed worshipful nonsense.  And when he left, he gave her a genuine kiss on the cheek, which made her inordinately happy.  (Aside—catching Jay and Gavin Creel sharing an embrace was like… tooth-achingly sweet.)
Gideon Glick was there in a skinny black tie. And what is life without Gideon Glick in a skinny black tie?
Gavin Creel held court with his Broadway Impact colleagues looking like his beautiful, awesome self in a beautiful, awesome velvet jacket. A general observation: We love how people get all flushed and nervous when they want to talk to Gavin like he's the Broadway version of JC Chasez and it's 2000 all over again.
Where was Cheyenne Jackson after 8? Not at the after party, from what we could see. Theory: Parts of the universe dangerously destabilize when Matt Bomer and Cheyenne Jackson are in a room together, so it can only happen once in a great while, when conditions are perfect and the earth can withstand the power of their blinding collective handsomeness. Cheyenne knew that he was taking a risk even by doing the play, and that the after party would surely rip open a hole in time, so he just went home and watched TV.
Photo: Hollywood Reporter