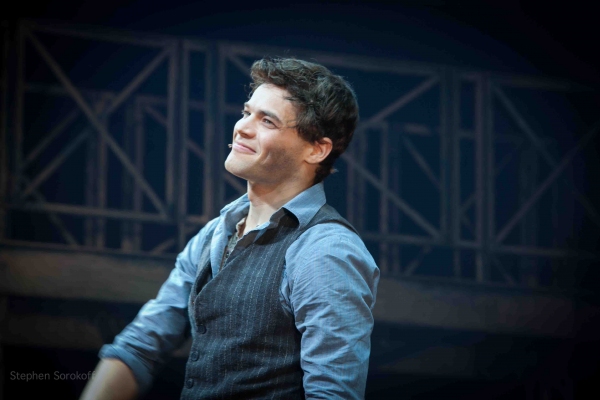 After opening to solid raves, the rumors have begun to swirl—Newsies could transfer to Broadway and it could even make that transfer this very spring.  As Newsies fans, we're overjoyed.  And as people who have seen the new musical version twice already (it's only been open for a week!) we think we're uniquely qualified to say… Newsies NEEDS to transfer to Broadway. And now. Below, six reasons why we'd be at the theater at least once a week if Newsies made the leap to Broadway…
It's more exciting than anything happening on Broadway right now.
Let's be real here, watching Bernadette Peters struggle to hit her notes in Follies is not exciting. Nor is the 700th, cut-rate replacement cast of Wicked. Musical theater in NYC is, frankly, pretty boring right now.  You know what isn't boring? Newsies, that's what.  It will have you leaping out of your seat with joy as those Newsboys fly across the stage.  And clutching your chest as Jack Kelly goes for a big note.  And gasping at the second-act plot twist.  Newsies grabs you by the shirt and takes you on a joy-ride, and that's the most exciting kind of theater we can even think of.  Broadway could use a shot of that, stat.
It's got broad appeal, but it doesn't pander.
Yes, it's based on a children's movie, so yes, you can (and should) bring children to see this show.  But it's also neither watered down, nor insulting to an adult's intelligence.  And yes, there's a cute boy in the lead, but it is in no way a musical aimed just at girls that will make little boys largely miserable, primarily because Newsies is, in fact, a musical almost entirely about boys.  It also happens to be a musical with some important things to say about oppression, and breaking down barriers, and standing up for everyone's rights in a world that takes people for granted—big messages, in a big story that everyone can get behind.
Little girls need more great heroines.
Speaking of barrier breaking—there's a new girl in town in this new Newsies.  Her name is Katherine Plumber and she's the girl who gets the Newsboys' story on the front page of the paper.  In other words, she's a pretty kickass chick.  And even better, her character is handled with depth and sensitivity, and Fierstein and co. did not dispense with historical realities when they inserted Ms. Plumber into the story.  In a world that takes her for granted, Katherine has her dreams and her future on the line here, too.  She's the kind of girl you want your daughter to see on stage.  She's the kind of girl you'd want to be on stage.
Jeremy Jordan, Jeremy Jordan, Jeremy Jordan.
Jack Kelly has been front and center in the daydreams of several generations of little girls at this point.  So in taking on a role originated in the film by the inimitable Christian Bale, Jeremy Jordan had some big shoes to fill.  Oh, Mary, did he fill them.  In fact, it's safe to say those shoes are bursting apart at the seams these days, because Mr. Jordan is making the role his own in a major way.  He's handsome, and big-singing, and plays an incredibly good toughie with a golden heart.  He's got swagger.  He's a fucking STAR.  We know he's got another job lined up right now—Bonnie & Clyde, opening at the Schoenfeld in December—but this is our version of The Secret. We're putting it in the universe in hopes that it will happen—Jeremy Jordan is the Jack Kelly of our dreams.
Those boys can dance, yo!
The creative team behind Newsies knew what they were doing when they picked and chose the things from the movie that would stay and the things that needed to go.  This is particularly true when it comes to the dancing.  It has stayed front and center, and it's the thing that takes this Newsies off the ground and sets it soaring—much like the disgustingly talented triple-threats who fill the cast.  Those boys can dance y'all.  Ryan Steele, Evan Kasprzak and Tommy Bracco are particular highlights, but the truth is, the entire company of Newsboys is wonderful.  They're a joy to watch, and Broadway could use their high-flying energy (especially now that Billy Elliot is closing).
Because Alan Menken deserves a Tony.
In the last few decades Alan Menken has done a lot for musical theater, both on stage and in the popular consciousness—the man has 8 Oscars, for Christ's sake!— and yet, he still hasn't won himself a Tony, which is shocking.  The thing about Newsies is… it's worthy.  The score is bright and energetic, it's memorable, and frankly, it's wonderful.  It was the best part of the movie, and even though Fierstein has elevated the book, it's the best part of the musical, too.   (Well, besides the dancing. And Jeremy Jordan. But we digress.)  In a year with less than a handful of new musicals… this could be Alan Menken's time.  Newsies could finally be his big winner.
Photo: Stephen Sorokoff via BroadwayWorld.com