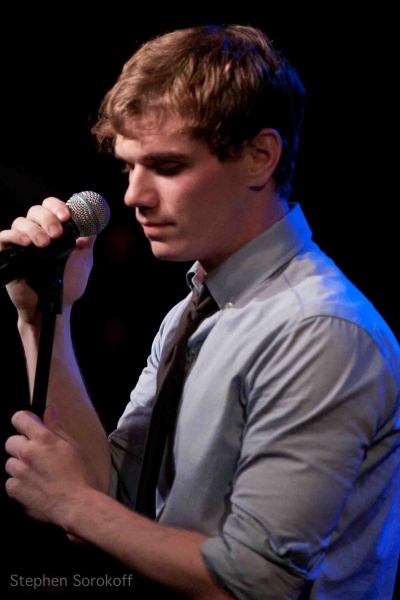 Sunday night Thomas Higgins' new play Wild Animals You Should Know opened at the Lucille Lortel Theater. We weren't there, but we know it opened because suddenly the internet is all abuzz with chatter about star Jay A Johnson. Jay happens to be a personal favorite of ours, so we thought the world could use a bit of a primer. Below, 5 of our favorite things about Jay, in no particular order:
He can sing like a beast. No. But really. Jay may not be displaying that particular talent in Wild Animals, but we're talking about someone who understudied Gavin Creel on Broadway (in the cast of Hair). Gavin Creel, y'all. Gavin Creel can sing notes that don't even exist. And so can Jay. We've heard it.
He's got a sick body. Okay, so this one is no secret if you've seen him in Wild Animals (where he strips), or Pool Boy (where he was blissfully shirtless while singing). But it's 100% worth calling out at every possible opportunity. Boy is beautiful. And fly as hell.
He starred as Jack Kelly in a reading of Newsies. Once upon a time, before the Paper Mill Play House and Jeremy Jordan, there was a hot minute where Jay A Johnson starred as Cowboy Jack. We never caught a glimpse, but just in case Mr. Jordan is somehow unavailable, we're letting the universe know we're down with seeing Jay as Jack again. And again. And again.
He's stupid nice. We'd literally never heard anyone say an unkind word about Mr. Johnson. He's kind to fans, colleagues, even puppies! But then, at a party, I stopped Jay on his way out to gush (drunkenly) about his utter wonderfulness, and he was kinder than I could even have imagined. Also. He kissed me on the cheek. I still haven't recovered.
He starred in a production of Floyd Collins at NYU that is the stuff of legend. Performance video is all over YouTube, but we still get murderously jealous any time someone mentions that they saw his performance in real life. Like. You should make sure we don't have any sharp objects nearby before you tell us your "I Saw Jay as Floyd" story.
Photo: Stephen Sorokoff