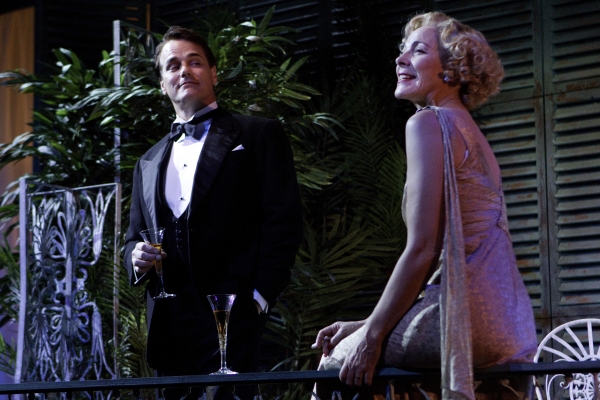 Look. I'm just going to lay it on you.
This production of Private Lives is not going to help you understand why the fuck this play keeps getting revived every five minutes. (Well. Beyond the fact that it's an obvious star vehicle and it's not totally insulting to human intelligence a la Spider-Man.)
Because this comedy of manners is still kind of shallow. And it still relies upon wild, unrealistic coincidences to motivate the plot. And there's not actually very much moral handwringing or like… basic suspense to what is happening on the stage.  In other words, this production, directed by Richard Eyre and currently playing at the Music Box Theater, just doesn't solve the problems Noel Coward's play presents for a modern audience.
But somehow, that doesn't render the play completely unenjoyable.  Probably because its stars are such fun to watch.
Sure, Kim Cattrall's performance as Amanda—a woman on honeymoon with her second husband—is a bit uneven and occasionally stiff. But when she's on, she's on, and it's great to watch her play someone besides Samantha Jones with such gusto.  Who knew Ms. Cattrall was such a good physical comedienne? I certainly didn't.
And then there's her co-star, Paul Gross, who plays Amanda's ex-husband Elyot, who also happens to be on honeymoon with his new spouse. You probably have no idea who Mr. Gross is—mostly, he's starred in Canadian TV shows—but he will be front and center on your radar after you see Private Lives for several reasons. First and foremost, he looks good in those suits. I mean, really. Pictures do not do him justice. Man is looking handsome. You understand why Amanda wants to leave her husband for Elyot, that's for sure. But secondly, he's actually hilarious. His comedic timing is fantastic and the way he drops each line—as if they were his own witty words just rolling off his tongue—is completely badass. Gross alone is worth the price of admission.
So the bottom line is this: you probably won't leave the theater with any understanding of why Private Lives is supposedly considered Noel Coward's finest work. But you will have a good time while you're there.
Photo: Cylla von Tiedemann
Tickets provided by the production.