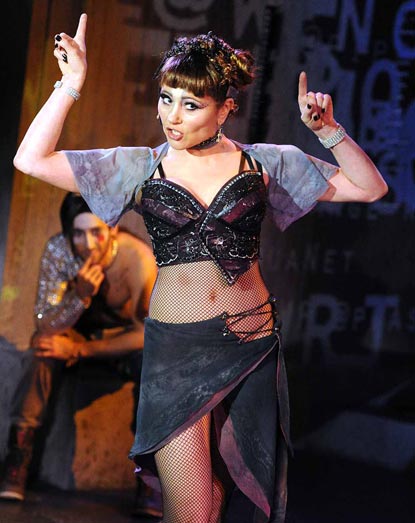 Sitting in the cozy restaurant at the Menier Chocolate Factory in London, I had an intense moment of deja vu. Hanging on the walls all around me were posters of Broadway shows I'd seen, and recently – A Little Night Music, Sunday in the Park With George, La Cage aux Folles. Except these posters weren't for Broadway shows. They were for the London predecessors of those Broadway shows.
Such has been the prolific direct-to-Broadway output of the Menier Chocolate Factory in recent years. So natch, because London is the new off-Broadway, I had to check out what was rumored to be its next cross-Pond transfer: a crazypants revival of Pippin that's playing there through February 25.
But first, we must ask the daunting but necessary question: Is it really time for Pippin? Apparently the answer is yes. Given the incredible success of Wicked, all things Stephen Schwartz are looking revival-worthy these days. There's a new production of Godspell already on Broadway and this version of Pippin is actually one of two in the works. Director Diane Paulus is developing her own, which had a reading in 2011.
This one, however, might have a difficult road to New York – or at least a more difficult road than its Menier Chocolate Factory predecessors. With a far-out concept that presents the characters as players in a video game (think SecondLife), this production is ambitious in its aims, but convoluted in its execution.
With a "set" that's nothing more than Super Mario Brothers-like projections on a concrete wall, and costumes that pay homage to warrior and fighter games, in theory this Pippin makes sense for our technology-saturated times. The concept feels like a logical fit for the material itself – a quest game is a great way to take Pippin, a young prince, on a journey from his father's court to greatness. If only it held together better.
Unfortunately, no one seems to have decided which kind of fantastical technology the show should be using. Are the sets paying homage to contemporary games like World of Warcraft, or to more vintage-y entertainment like Tron? The latter might play as a cool nod to the 70s – the era in which Pippin was written – but its use isn't consistent. The same goes for the scattershot technological references, which include Twitter, online porn, and video chat – which just aren't the same as online gaming, and are not used by the same people to the same ends. In fantasy, the world has to be singular and airtight. The rules have to be sound.
The other notable thing about this production is that it features Bob Fosse's original choreography – a bold move with a small cast in a small space. If only the moves themselves were so bold. Sadly, the dancing is muddy – the exact thing that Fosse should never be. But the other issue is the way the choreography integrates into the SecondLife concept. In short, it doesn't. It seems like the creatives thought that Fosse's moves seemed… robot-y. Or like they somehow mirrored the herky-jerky bobbing of Sims characters. They don't. More often than not, the dancing just seems like it belongs in a different show.
Thankfully, along the way, we have Stephen Schwartz's songs to serenade us. Connoisseurs of sunny am-radio pop will not be disappointed – and have not been disappointed by Pippin from the moment it existed. The big hits – "Simple Joys," "Morning Glow," "Corner of the Sky" – are still blissfully easy on the ears. "Extraordinary," wherein Pippin balks at the idea of a quiet, domestic life, has real energy and momentum. Some of the arrangements here, too, update the score nicely for a contemporary band without resorting to jangly, Goo Goo Dolls-like extremes (right at you,Godspell…).
The cast is fine, but bland, with the exception of Frances Ruffelle as Pippin's sultry stepmother Fastrada. Done up like Xena: Warrior Princess in character shoes, she is the only one onstage whose presence is felt beyond all the bells and whistles – and lasers – around her. In this production, the production itself is the star.
Whether it will make its way to New York is anyone's guess, but we'd like to see the Diane Paulus version before we start making cash bets. The time is probably right for Pippin. It remains to be seen whether the time is right for this one.