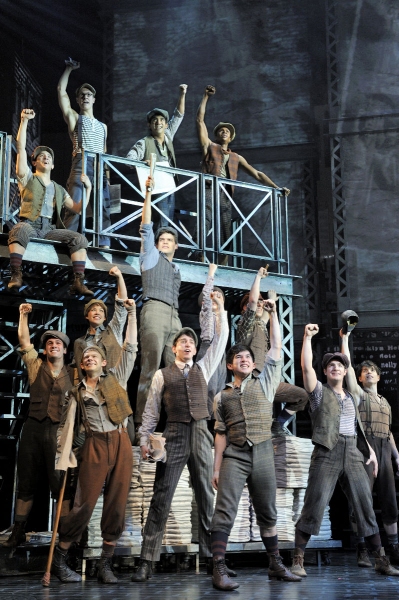 Alas, Newsies opens on Broadway tonight. Which clearly means that it's time to answer the most important question of your youth: Which newsie is fated to be your one and only love?
We're going old school, here. Like it's 1992 and you just got your Tiger Beat Magazine from the corner store. So grab some scrap paper and sharpen your pencils, ladies and gents, cause you've got some tallying to do!
Your ideal first date would be:
Coffee. You like to take things slowly. (2 pts)
A shooting range. (3 pts)
Cocktails at a cigar bar. (4 pts)
A stroll in Central Park before painting pottery at Color-Me-Mine. (1 pt)
What would be your ideal birthday present?
Stacks of travel guides to plan your next far-flung adventure, and 80,000 Delta Sky Miles. (1 pt)
Dinner and dive-bar hopping in the neighborhood. (3 pts)
The burnt-orange West Elm sofa that looks a lot like Jonathan Adler if you squint. (2 pts)
A weekend in Atlantic City. (4 pts)
Your dream job is:
Cocktail waitress (4 pts)
Ace reporter (1 pt)
Wife and mom (2 pts)
Reality TV personality (3 pts)
Your favorite musical is:
Fiddler on the Roof (2 pts)
Brooklyn (3 pts)
The Pajama Game (1 pt)
Guys and Dolls (4 pts)

Your feelings on controlled substances:
All in moderation, my friend. All in moderation. (1 pt)
In your life, you wouldn't exactly describe them as "controlled." (3 pts)
Cigars are kind of cool. Every once in a while. (4 pts)
You're body is fully drug-free, and you're already taking folate because you don't want your babies to come out demented. (2 pts)
Your favorite book is:
The Communist Manifesto by Karl Marx (2 pts)
Bringing Down the House by Ben Mezrich (4 pts)
Lonesome Dove by Larry McMurtry (1 pt)
The Colossus of New York by Colson Whitehead (3 pts)
The quality that you cherish most in a partner:
Passion (1 pts)
Brains (2 pts)
Financial solvency (4 pts)
Loyalty (3 pts)

You want your children to grow up to be:
Something honest—firefighters or cops or nurses. (3 pts)
You'll support your children whatever they want to be… You know, doctors, lawyers, CEOs. (2 pts)
Something creative—architects, writers, art directors. (1 pt)
Whatever will make them the most money. (4 pts)

Which song lyric do you most identify with?
No. Sleep. 'Til Brooklyn. (3 pts)
And the best that you can hope for is to die in your sleep. (4 pts)
Sometimes you tell the day by the bottle that you drink. And times when you're alone, all you do is think. (1 pt)
Let's go make a family.
And they will bring us joy, for always. (2 pts)
Where are you going on vacation this year?
You live on the G train, so you're physically unable to leave Brooklyn. (3 pts)
You've always wanted to see The Grand Canyon. (1 pt)
Vegas, baby. Or maybe just Foxwoods. (4 pts)
Somewhere that the whole family will enjoy. Like… Disney World! (2 pts)
.
Cheese it! Add up your answers and click on the corresponding link below to meet your newsie soulmate and boyfriend:
Photo: Deen van Meer