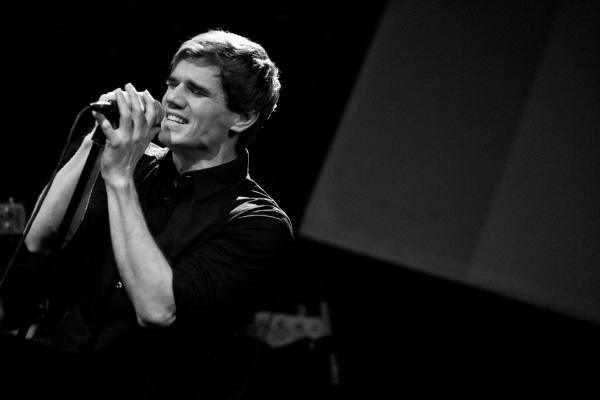 It's been a big year for Jay Armstrong Johnson. He was the Frank Abagnale Jr. alternate in Catch Me If You Can, performed in the world premiere of Dustin Lance Black's 8 alongside stars like Ellen Barkin and Morgan Freeman, and starred in the buzz-y off-Broadway show Wild Animals You Should Know. He's currently starring in Ryan Scott Oliver's 35MM, which just extended its run at Galapagos Art Space. We caught the show this week and chatted with Jay about meeting Ryan, starring in the most famous college production of Floyd Collins of all time and, of course, his first Broadway crush.
M: How did you first connect with Ryan?
J: I met Ryan when I auditioned for him in my junior year of college. He was brought in as a composer for the new work slot at NYU Steinhardt, and I wanted the role so badly, but my director wanted me for Floyd Collins. I didn't end up doing that show—Alive at Ten—but he had me do a demo recording of it. Ever since, he's used me in most of his stuff, and here I am — the luckiest guy in the world to be workshopping a show by one of the most brilliant composers of our generation.
M: So, 35MM is a series of songs based on photographs. If you had to write a song inspired by a photograph from your life, what photo would you pick?
J: I'd probably pick this really incredible photo that I took the summer before I went away to college with my best friends in the entire world. I'm wearing khaki cargo shorts on with flip flops and a wife-beater, because I'd just gotten out of dance class. And it's just me and five or six of my friends standing in the middle of the street essentially hugging each other.
M: I went to NYU too, so I'm curious… Why NYU?
J: I went to a performing arts high school in Texas and I was a dance major. So I wanted to go to a school where I could get a really strong basis in vocal technique. It's the only place I applied. So if I didn't get in, I was just going to go to New York and say 'screw it' and live there. Thank god I got in!
M: Can you tell us about Floyd Collins? The production you mentioned earlier is pretty legendary. The whole thing is on YouTube.
J: It's my favorite theatrical experience ever. I never thought that doing a piece of theater where I had to sit in one place for two and a half hours would be so rewarding. But coming from a dance background, to only act with my mind and my voice was something that I had never really explored before. I think it helped me grow immensely as an actor. I miss it a lot. And I want it to be revived one day and I want to play it on a larger scale.
M: If you could only dance or sing for the rest of your life, which would you choose?
J: Singing. There's something so cathartic about it. Dance is an incredible art form, of course, but I've been singing since I could talk. I didn't start dancing till I was like, 16 years old…
M: Did you burst out of the womb singing?
J: Probably! I'd have to ask my mom about that, but we were a pretty musical family. My dad played the drums and my mom and my aunt were always singing and harmonizing.
M: What's your favorite pop song to sing along with right now?
J: "Not Over You" by Gavin Degraw. That's on repeat over and over on my iPod right now.
M: What's up next for you?
J: I'm going out to the La Jolla Playhouse to do Hands on a Hardbody. Allison Case is playing my love interest and I believe that Hunter Foster is playing the lead.  It's about  a car dealership that gives away a pickup truck every single year. If you get chosen to be in the contest, you have to keep your hands on the truck and the last one standing wins. It's kind of like A Chorus Line, except instead of dancers wanting to get into a Broadway show, it's a bunch of hicks wanting to win a pickup truck.
M: Most important question: Who was your first-ever Broadway crush?
J: Sutton Foster. I was fifteen and I saw Thoroughly Modern Millie—it was my very first Broadway show, and my first time in New York City, and I thought she was the most immaculate thing I'd ever seen on stage in my life.
Photo: Kevin Thomas Garcia