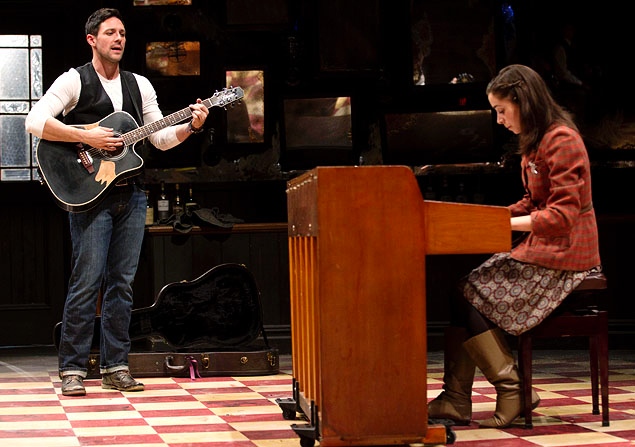 Even though music was the heart and soul of the 2006 movie Once, and even in a sea of musical remakes of popular films, the idea of turning Once into a musical didn't immediately seem like a sure thing. Suffused with sadness, the film is deeply introspective and subdued. Its music, though powerful, isn't redolent with horns. It doesn't roar or lend itself to any kind of tap number, either.  It just grabs hold of your heart stealthily and like a vice, squeezes until it is nearly broken in two.
Which, not incidentally, is exactly what the stage musical version of Once is doing at the Jacobs Theater, where it has made an absolutely beautiful transition from screen to stage. With a handful of small but important changes, the creative team behind Once have stayed true to the spirit and intentions of the original film while turning up the volume for the Broadway stage.  While changes to Girl's character are occasionally difficult to swallow—there are moments where she feels more like a chipper cipher for wisdom and adage than a real woman—changes to the cast of supporting characters feel much more natural.  In fact, their new voices—and the brighter, more vivid and varied tapestry they create around Guy and Girl—are a large part of why the musical is so successful.
Enda Walsh's book deserves a lot of credit for that. After all, it's his dialogue which creates those voices and, with his deft use of slang and colloquialism, even goes a long way to helping the actors create—and cover for lapses in—their accents.  Those accents are, by the way, very good but not quite perfect. The actors occasionally slip into Liverpudlian British, or fakey sounding nonsense. Though the performances are so strong this is forgivable and, to be fair, I'm probably as harsh a critic of Irish accents as you'll find outside Ireland.
Speaking of performances. Steve Kazee is killing it on that stage. People can debate whether or not he's too handsome for the character of Guy 'til kingdom come. (Though it seems Brantley, at least, has changed his mind on the matter.)  I'd rather focus on the fact that no matter what he looks like, Kazee is giving a sensitive, layered, haunting performance. His costar Cristin Milioti is working hard to find the subtlety and humanity in a character that occasionally becomes a trope, and she's succeeding.  And together, Milioti and Kazee bring wonderful chemistry to the central relationship that drives Once. The shifting emotions and dramatic tension in the climactic recording studio scene between Guy and Girl literally took my breath away.
Still, Once's chief strength remains its music. Wonderfully re-imagined for the stage with orchestrations by Martin Lowe, it's performed by the talented cast of actors who also double as the show's musicians.  And as singer-songwriter Guy, Steve Kazee's voice—running the gamut from playful to aching to sexy and back—reveals the texture and color and most importantly, the heart, in Glen Hansard and Marketa Irglova's music and lyrics. In a universe where the characters are unable to fully communicate through words alone, the music says everything they cannot—it is the place they connect, the place they understand each other best, the place they ultimately part. This was true of the film, and it remains true in the stage version. The music, here, is everything.
John Tiffany's direction and Steven Hoggett's movement (read: scaled back choreography) together emphasize and enliven the quiet ache in Once's beautiful, tightly focused story of a love-that-wasn't.  Allowing the musical to be moody and quiet, to smolder instead of blaze, is perhaps the bravest decision the creative team made. It pays off.  Not only because this allows the musical to remain true to its cinematic origins but also because it has made Once one of the most unique and compelling shows on Broadway today.  Through its subtlety, Once set itself apart in my heart and mind as one of the most exciting pieces of musical theater I've had the privilege of seeing. Unexpected, right?
Additional Reading: A Handful of Things I Loved About Once, Before It Moves to the Broadway
Photo: Joan Marcus