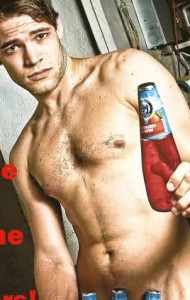 A drinking game to play during the Tonys? Please. That's child's play. You make yours up on the fly, like a boss.
We hear you. But here at The Craptacular we thought it would be a damn shame to let the biggest day of the theater season go by without finding some way to honor and celebrate it with alcohol. Developing a custom Tonys cocktail seemed like a pain, and you'd need to buy supplies which is… inconvenient to say the least.
So we decided to focus on some alcoholic entertainment that only requires things you already have in your house. And that wouldn't distract you from your Tonys viewing time—God forbid you miss even a second of that Hairspray of the Seas performance, am I right?!
Which led us to the Pre-Game. So you can start drinking in theatrical style early and be sure you're good and liquored up in time to be your wittiest on Twitter when The Event finally begins. So, without further ado…
Welcome to The Tonys Cup, Drinking Pre-Game, 2012 Edition.
(Yes, you guessed correctly, this is a take on Kings Cup, the drinking game of your sordid college past. Bottoms up!)
(Also, you should only play this if you're over the legal drinking age and prepared to be responsible for your actions and all that jazz.)
The supplies:
2 or more players, with the wine/beer/cocktail/Bartles & James of their choosing.
1 deck of cards
1 empty drinking glass
A table or flat surface to play on
The set-up:
1 – Place the empty drinking glass in the middle of the table/playing surface—this is now the Tonys Cup.
2 – Take the deck of cards and arrange all the cards, face down, in a circle around the Tonys Cup.
3 – Gather your friends, each with whatever drink/cocktail their little heart desires, and sit in a circle around the game setup.
The game:
1 – Select someone—perhaps the person to the left of the dealer—to start. They draw any card they'd like from any part of the circle.
2 – The player must then follow the instructions associated with the card they've drawn. After they've completed their task, they keep their card (it is not returned to the circle of cards).
3 – Play continues around the circle, each player drawing a single card and following the instructions associated with that card.
4 – Game ends either when the Tonys Cup has been consumed, or when all the cards have been drawn, whichever comes first.
5 – Feel free to rinse and repeat, at least until show time.
The rules:
| | | |
| --- | --- | --- |
| CARD | NAME | RULE |
| Ace | Face | When a player pulls the Ace, everyone takes turns making the face they imagine Raul Esparza made when found out he didn't even get nominated for a Tony this year. The group then votes on who  made the lamest face, and the loser drinks. |
| 2 | You | The player who draws a 2 selects someone else to immediately name a 2012 Tony Nominated Musical, if they fail, they drink. Musicals cannot be repeated during the game. |
| 3 | Me | The player who draws a 3 card must immediately name a 2012 Tony Nominated Play, if they fail, they drink. Plays cannot be repeated during the game. |
| 4 | Floor | When a 4 is drawn every player must do an One Man, Two Guvnors-style pratfall. Last person on the ground drinks. |
| 5 | Guys | When a 5 drawn all the guys must each name a man nominated for a 2012 Tony Award on the spot, first person who fails to name someone, drinks. Names cannot be repeated within a round, so anyone who repeats an actor that another competitor already listed, drinks. |
| 6 | Chicks | When a 6 is drawn the girls must each name a woman nominated for a 2012 Tony Award on the spot. First person who fails, drinks. Names cannot be repeated within a round, so anyone who repeats an actress that another competitor already listed, drinks. |
| 7 | Hollywood Heaven | The person who draws a 7 must immediately name a 2012 Musical based on a movie, if they fail, they drink. Shows cannot be repeated during the game, so anyone who repeats a show that another competitor already listed, drinks. |
| 8 | Tony Date | The person who draws an 8 gets to pick a 'date' who will drink with them through the rest of the game. |
| 9 | Stephen Sondheim | The person who draws a 9 must recite a lyric from Stephen Sondheim's 2012 Tony Nominated revival Follies. Then players go around the circle reciting more Follies lyrics. Whoever fails first, drinks. Lyrics cannot be repeated within a round, so anyone who repeats a lyric that another competitor already listed, drinks |
| 10 | Categories | The person who draws a 10 picks a Tony-related category (example: "Shows that Won Best Musical") and players go around the circle saying items from that category. First person who fails to answer drinks. Items cannot be repeated within the round, so anyone who repeats an answer that another competitor already listed, drinks. |
| Jack | Kelly | The person who draws a Jack must grab their head like Jack Kelly does at the end of "Santa Fe." Everyone else must follow suit. Last person to grab their head drinks. |
| Queen | Osnes | The person who draws the Queen can select someone else to belt their face off Laura Osnes-style. Depending on the quality of their performance, you decide how much they drink. |
| King | Tonys Cup | The person who draws the King must pour some of their drink into the Tonys Cup. The person who pulls the fourth King chugs the contents of the cup. |
| Joker | Frank Wildhorn | The person who draws the joker must spontaneously compose two lines from a long lost Bonnie & Clyde song in an attempt to make their competitors laugh. Whoever laughs first, drinks. If no one laughs, the card holder drinks. |