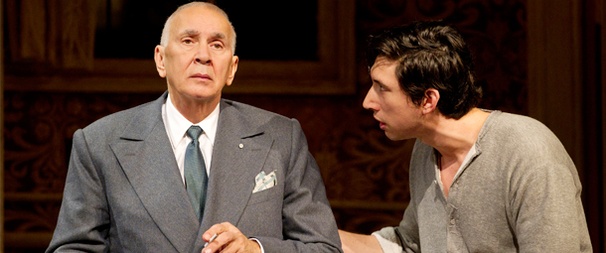 There are a solid 15 minutes when Man and Boy, which opened Sunday night at the American Airlines Theatre, becomes a good show. Those 15 minutes involve a ruse between two of the main characters — the father (Frank Langella) and the son (Adam Driver). Basically, it goes down like this:
 
A corrupt businessman, (hilariously) named Gregor Antonescu, wants to forge a partnership with another businessman, who happens to be gay. So Gregor convinces the businessman that his wayward son is actually his gay lover, and that the gay lover might be available for some fun-filled nights on the town.
 
Are you shocked?
 
Yeah, didn't think so. But at least this scene offers a compelling complication. Before it starts and after it ends, you may very well need a diet Coke to keep you awake and interested. Or maybe a hit of adrenaline in a huge syringe.
This snooze of a revival of Terrance Rattigan's 1963 play is, at its core, a play about family and human values – and how fluidly they transfer through the generations. Basil, the son, has eschewed his father's big-business success and is living like a vagabond under an assumed name in a Greenwich Village apartment. (For those of you under the age of 104, that used to mean that you had no money.) Then Gregor tries to use Basil to close that ill-fated business deal by fake pimping him out. Awesome father-son relationship right there.
Unfortunately, none of this is enough to compensate for the show's coma-inducing pace, and its lack of any true dramatic action. The gay lover bit is about as exciting as it gets, folks. It should be said – and everyone has said and will say this – that Frank Langella gives a satisfyingly oily, vampire-meets-Telly-Savalas performance. But even that doesn't compensate for the show's shortcomings.
And even as a comment on the current business climate, this show is a bit of a head scratcher. I guess, on a totally basic level, this show is about a corrupt businessman. And America has been haunted in the last decade by a bunch of really corrupt businessmen. But there's nothing fresh or contemporary to glean from this revival. You won't watch this show and be like, "Wow. I just learned something hugely important and insightful about my world. Also, this is exactly like Bernie Madoff." In fact, you'll probably just be like, "Frank Langella is awesome, but he always is, and I kind of wish Adam Driver kept his shirt on."
Those were my takeaways, at least. And of course, that a Diet Coke at intermission does wonders.
Photo: Broadway.com