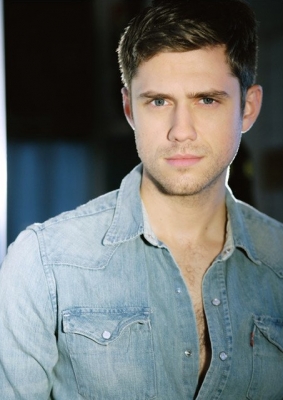 High unemployment? Rioting in the streets? Europe on the brink of economic collapse? Political chaos in North Africa? Bonnie & Clyde is closing?
Well, I just want to tell you that all of that will be solved very, very soon, because according to the awesomely-named Baz Bamigboye, Aaron Tveit has been cast as Enjolras in the film version of Les Miserables.
We have no idea which planets aligned to make this happen, but we love to imagine Cameron Mackintosh sitting on a huge stack of money in his office, stroking his chin, thinking to himself, "Now who should play Enjolras? Who is cold as ice, has a solar plexus of steel, can sing like an angel, has eyes that gaze innocently at the Lord with no intent other than liberty, and would look good while dying upside-down with blood streaming out of his nose? Wait! I know!"
Enter Aaron Tveit, who we think is a brilliant (and deliciously un-obviously obvious) choice for one of The Sexiest Musical Theater Characters of All Time. We're excited to see him trade his New Balances and his pilot hat for "the xylophone," as our friend Nicole likes to call Enjolras's famous costume. We do have some cautious but not overly bothersome questions about how Aaron will play "period" and what the wig situation will be like. But right now, we're still celebrating, and thanking the gods of musical theater on film, who are usually kind of feeble but occasionally come through for us. And of course, you now have to tell us what you think. Aaron Tveit as Enjolras is…


Loading ...
photo: aarontveit.net