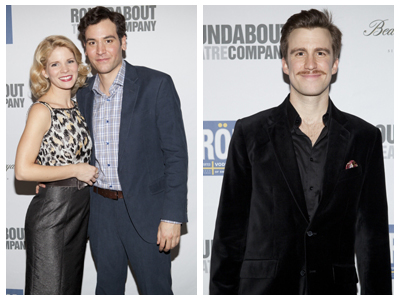 So last Monday night I was lucky enough to attend the Roundabout Theatre Company's benefit concert performance of the 1963 musical She Loves Me starring all kinds of awesome people like How I Met Your Mother's Josh Radnor, and Broadway's Kelli O'Hara and Gavin Creel. (And Rory O'Malley and Jane Krakowski, and Victor Garber, and and and…)
Before that night I'd neither seen, nor heard She Loves Me before and was honestly mostly just attending because—you guys—Gavin Creel.  So I really wasn't sure what to expect. But it turns out, even if you don't know you know She Loves Me, you know She Loves Me. Because the musical was based on a late 1930s Miklos Laszlo play called Parfumerie that was also the basis for the movies The Shop Around the Corner and You've Got Mail.
Needless to say, I loved every single thing that happened on stage at the Stephen Sondheim.  I imagine you're not surprised. I'm kind of not surprised either… well, with one shining exception.
Read on for a recap of the night—from the totally unsurprising to the night's one big revelation.
Things that were fully not surprising at She Loves Me:
Rory O'Malley was sweet and charming and funny, and got some really big laughs as young Arpad Laszlo.
Gavin Creel plays a great smarmy ladies' man—Jimmy, oh Jimmy—and every time he sings I swear to god an angel gets its wings. Not even exaggerating when I tell you our entire row swooned and sighed when he walked out on stage (with a mustache and a pimp cane, natch), and when he sang… I for real ended up with my chin in my hands and hearts in my eyes. I may or may not be looking into changing my name to Ilona.
Kelli O'Hara brought the fucking house down with "Vanilla Ice Cream." Because she isn't even a human being. She's just perfection personified.
The one surprising thing at She Loves Me? Josh Radnor.
I mean, I knew he was handsome. And that he could act. But I completely did not expect to see a new musical comedy stah born Monday night. I expected something along the lines of a Daniel Radcliffe in H2$… good acting, passable singing, not-making-a-mockery-of-the-material kind of business. And then Radnor stepped on the stage. And he can sing. Like, he has a nice full tenor with good power in his chest voice. And he's hilarious. And most importantly, he gave a fully realized performance as Georg—a man in love with his anonymous pen pal, who secretly happens to be his most despised colleague. Radnor was, in turns, overbearing and sharp and then lovesick and goofy—spot on physical comedy, man—and he did right by the title song, which is no small feat considering it came right after Kelli O'Hara's electric "Vanilla Ice Cream."
Photo: Kevin Thomas Garcia