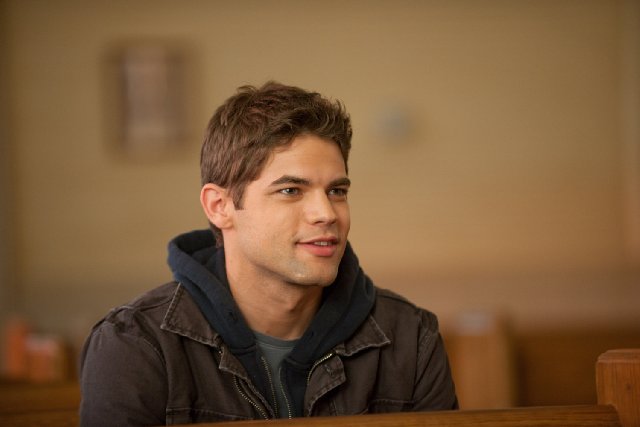 So, you've seen the Joyful Noise reviews. They're not great. We're not here to argue.  We are here, however, to tell you why Joyful Noise is still totally worth a few hours of your time. You are welcome, writer/director Todd Graff. You are welcome, America.
Four Moments in Joyful Noise That Don't Fully Suck and One that's Truly Craptacular
That one moment in the church where Jeremy Jordan is such a good actor that you're convinced that YOU are actually in love with Keke Palmer, because when he looks at her, suddenly you feel everything you can see in his eyes. It's freaky. As an actor, Jordan is like an exposed nerve, channeling his emotions into you like an electrical current STRAIGHT TO YOUR SOUL.
That time Jeremy Jordan is sitting in the kitchen with no shirt on and he lunges across the table and smooches the hell out of Keke Palmer WITHOUT HIS SHIRT ON.
The Dolly/Jeremy duet. Or, the parts of it that don't involve slow dancing with Kris Kristofferson's ghost. Because these are the two best performers in the whole damn movie. And because Jeremy Jordan plays (pretends to play?) a guitar. And science shows that any time a man picks up a guitar he gets 900% hotter, and movies get at least 60 times better.
The hot minute when Jeremy sings "I Fell N Luv with a Stripper" that will make you swear to god it's the best song you've ever heard.
And last but not least…
The One Moment That is Truly Craptacular is: When, at the Joyful Noise national finals, we have a full on Sister Act II moment and the team scratches their entire stodgy performance plan at the last second, in favor of something younger and hipper. Highlights include the moment Jeremy Jordan sings a Jesus-ified version of Usher's "Yeah!" and Dolly Parton miming a slow-mo run, while singing a non-secular version of "Forever" by the world's most Christ-like hip-hopper, Chris Brown.
Photo: Van Redin