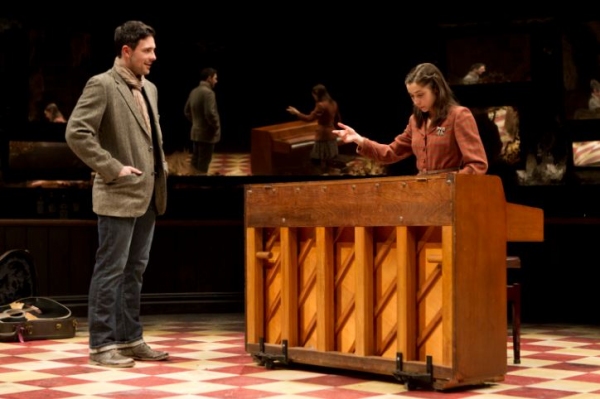 So Once is about to pack up its bags at the New York Theatre Workshop and hike approximately 41 blocks north to the Bernard B. Jacobs Theatre. I caught the show last weekend while it was still on East 4th Street, which makes me a bit late for a review, probs.  But I have a few things to say, because really, when do I not have a few things to say?
Anyway. I'm just gonna throw 'em out there in a quick list.
5 things I really fucking loved about Once off-Broadway, in no particular order:
1. There's jam band on stage. And a bar!
Look, we've been clear about the fact that we like booze. And booze and theater together can be a glorious thing. So you KNOW Lucky & I were stoked when the ushers invited us to visit the bar on stage before the show. But honestly, the coolest part of the fully functional pub on the stage? The band jamming away at some good old Irish tunes—the shit I grew up on, like "The Leaving of Liverpool"—and stomping and generally kicking up an awful good time. What a way to set the tone and really welcome the audience into the world of your show.
2. It's chockablock with fresh faces.
When Once opens on Broadway almost half the company will be making their Broadway debuts.  Another handful will have the biggest Broadway credits of their careers to date, including leading actress Cristin Milioti (Girl). Even Steve Kazee—who's been knocking about on Broadway for years—feels like a fresh, unexpected choice for Guy. And while it's always fun to see exciting new performers, here it seems to bring a little something else to the table as well.  There's a ragtag energy and excitement to Once that both echoes the film's origins and brings a sense of newness to the whole theater experience.
3. Jesus Christ, Steve Kazee.
Ben Brantley thinks Kazee is too handsome for the role of Guy. And we have some minor quibbles with his accent.  But really, who are we to complain when we've been blessed with several hours alone with an ass that looks like that in blue jeans? I mean, honestly, Ben. Don't judge a performance by its cover!
4. The ode to Dublin.
From the moment you set foot inside and hear the session taking place on stage, the connection to Ireland here is clear. But there's a moment toward the end of the show, where the men stand and gaze out over the water toward the city of Dublin and talk about her, that made me weep. Ireland, and Dublin in particular—that city of poets and musicians forever giving voice to their broken hearts—is beautifully featured in the film, and I'm so glad they've retained the character of city I love so much as they transported Once to the stage.
5. Steven Hoggett wuz here.
I mean, I'll be honest, I'm still mad that Hoggett didn't win a Tony for his work on American Idiot. So clearly, I love the guy. But in a musical like this, where there isn't a whole lot of room for dance in the performance, I was just really happy I could still sense his mark in all the movement, from the actors center stage, to the supporting characters and musicians in the wings.
Photo: Joan Marcus