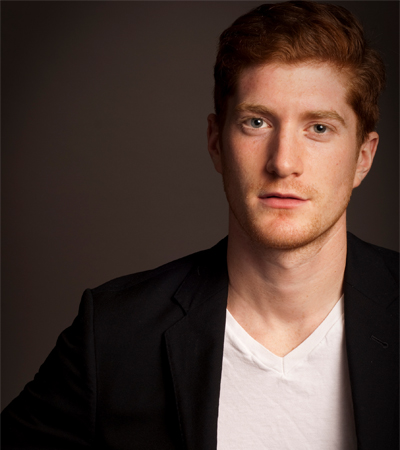 You guys! In the holiday haze, Lucky and I almost forgot to tell you all about an important discovery we made.
Right before Christmas we were invited to try Two Boots' new Mamma Mia inspired pizza and see the show. It was so cold and rainy we almost bailed, but thank god we didn't because:
a) the pizza delicious
b) we made an even more delicious discovery at the Winter Garden Theater.
His name is Jordan Dean, but we've taken to calling him The Singing (Ginger) Chest.  Why, you ask? Well, because he's a redhead. And he plays Sky, so he sings a song. And most importantly, because he's so gosh-darn handsome/ripped that the audience actually burst into applause when he took his shirt off.
YOU GUYS! You guys. That is an actual thing that happened in real life and not just in the confines of my own twisted, filthy imagination. I was flabbergasted. And proud of the audience for having really good taste. And relieved that I was mature enough not to give into my baser instincts and wolf-whistle at Mr. Dean. That's how fantastically attractive he is, Mr. Singing (Ginger) Chest.
But you don't have to take our word for it. You can check him out here and here and more importantly, at the Winter Garden 8 times a week.
PS. We don't suggest doing a Google image-search for Mr. Dean when you're at work. Because apparently if you're a hot young Broadway star—read: Jeremy Jordan, Jordan Dean—you're contractually obligated to have the same name as a porn star and that makes for some… graphic search results. In fact, in this case, they're extremely graphic.  Don't say we didn't warn you.
Photo: IMDB.com