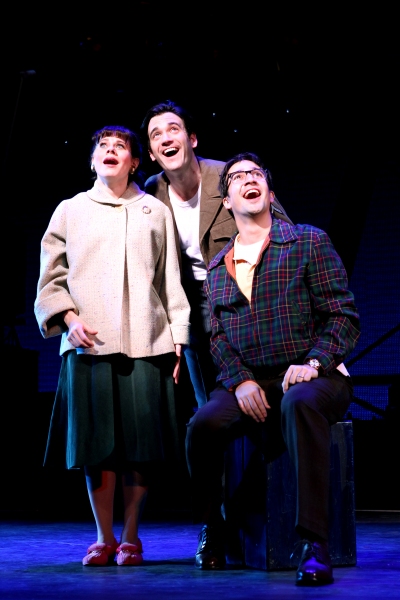 When the curtain fell on the Encores! production of Merrily We Roll Along—playing at City Center until Sunday—I actually started crying. No, not during the final, touching, hopeful scene, but as the curtain fell. The show itself was over. My tears were for the sheer joy of seeing something so smart, so beautifully rendered on the stage. For a smart, challenging musical having a life in a city that sometimes feels overfull with empty-headed Spider-Mans and Wonderlands. Even if that life is only fifteen Encores! performances –and even though that show is more than 20 years old.
Of course, that's not to say that Merrily wasn't also emotional in and of itself. Because it is and was, and always will be. Sondheim's astute, vivid portrayal of love and friendship and desire—the contradictory boundlessness and limitations of which drive human life—shines here, even in a pared-down Encores! style production. Perhaps that's because Encores! feels as if it is about the songs most of all, and the music and lyrics in Merrily are so incredibly top notch, so rich and layered with emotion.
The book, by George Furth, is still hinky in places & some of the dialogue is so 'on-the-nose' it doesn't feel real.  For my money Sunday in the Park with George is a better, more insightful portrayal of the creation of art and the lives of those who create it.  And frankly, I wouldn't envy anyone the job of playing Franklin Shepard, an anti-hero whose motivations are difficult to discern or understand, largely because for much of the show he's so self-centered and immature it's hard to imagine he's ever felt much of anything at all.
But the real story of this production is the performances. Two in particular, given by Elizabeth Stanley and Lin Manuel-Miranda, really leapt off the stage. Stanley's Gussie Carnegie was actually pitch-perfect. So, either Stanley actually is Gussie in real life, or this is just the best casting decision/performance combination ever.
And then there's Lin. Whose casting honestly seemed a bit out of left-field. Whose Charley is an unexpected joy.  Whose "Franklin Shepard Inc." reminds you that it's secretly (or not-so-secretly) the best song in that whole damn show. Whose performance is so bright and fully realized it brings depth and color to a character that could easily be relegated to also-ran status.
Their performances, combined with what was an otherwise a solid cast—shoutout to the very handsome Colin Donnell whose talent saved Frank from the pit of douchebaggery he could so easily have sunk into—and a big, beautiful orchestra, gave shining new life to Merrily. And who knows. Maybe this production could lead to a full revival. One that outlasts the 15 Encores! performances, or the 16 Broadway performances of its original run. A girl can dream, right?
Photo: Joan Marcus