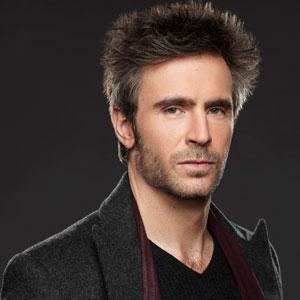 We're not sure if you've noticed, but director Derek Wills is basically the hottest person on Smash.  Sure, he's got a questionable attitude. And he takes advantage of his position in ways that make Human Resources professionals the world over recoil in horror weekly. But with that dashing accent and bad boy air, we'd crawl over broken glass for some time in the sack with that man, whether or not it was going to score us a leading role.
Inspired by Wills' scorching hotness, we decided to compile a list of 5 hot directors on Broadway right now. And don't worry, we included pics so you can keep a weather eye while you're out and about in the theater district.
Alex Timbers
How hot is Alex Timbers? Hot enough to make several editions of the list, that's how hot. Featured once for his talents as a writer, this time we're giving Mr. Timbers a nod for his work as a director. And, as always, for his boyish good looks and beautiful, floppy, perfect hair which makes grown men and women swoon on sight. His obvious smarts, sharp sense of humor, and obvious penchant for physical comedy are pretty sexy, too (hello, Peter and the Starcatcher). But mostly, we just want to reach out and tuck a lock of that beautiful hair behind his ear while we stare tenderly into his eyes… Or maybe just grab hold and… well…
Matthew Warchus
The first time we saw Matthew Warchus, he was dressed entirely in black with his hair sticking up straight, and wearing a pair of enormous combat boots. In other words, it was love at first sight. He's also English, so plus 1000 points for the accent, and the promise of authentic punk sensibility. And for being way more suitable for this list than, say, Trevor Nunn. He's directing Ghost on Broadway this season, and next season, his Matilda promises to land on NYC like an atomic bomb of shrieking, sardonic little girls. As shrieking, sardonic little girls ourselves, We. Cannot. Wait.
Sam Gold
In case it wasn't obvious, we love ourselves a man with good hair. Enter Seminar/Look Back in Anger director Sam Gold, whose particular brand of good hair is both flowing and curly. Slap on a pair of thick nerd-glasses and we're complete goners. Of course, it doesn't hurt that he's also immensely talented and intelligent—the Times described him has having an "uncommonly observant eye and ear"—in fact, Gold is basically a cocktail of amazingly hot things. Which makes him kind of intoxicating.
Joe Mantello
We love actors who break out of the acting box, especially when they do it with some panache and style. Few have had a cooler path than Joe Mantello, who still manages to squeeze in acting gigs around his ridiculously successful directing projects. And if you caught his portrayal of Ned Weeks in The Normal Heart, you learned the most important thing to know about Joe Mantello: Passion is sexy. Throw in brains, a tidy fortune (you're welcome, Wicked), and a certain graying-at-the-temples worldliness, and you have a genuine dish.
Diane Paulus
Yeah, she's female. So our scale of admiration is slightly different. But the director of Hair and Porgy & Bess has us swooning for lots of reasons. Namely, we'd more or less kill for her beautiful bone structure and intense baby blues. Even sexier than that, though, are her two Ivy League degrees and her sensitive, nuanced new take on old material. Now that's winning like a smaht girl.
Photos: Davenport – NBC, Timbers – Roundabout Theater, Warchus – Jonathan Player for The New York Times, Gold – Walter McBride, Mantello – Time Out New York, Paulus – DianePaulus.net