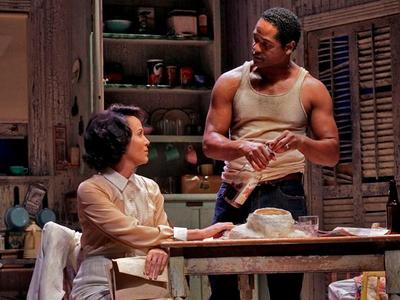 A Streetcar Named Desire is one of those plays: Though it gives its entire cast plenty to do, it's often devoured whole by a single performance. In the film, the devouring was done by Marlon Brando. Playing Stanley Kowalski, he howled his way into cinema history, even though Vivien Leigh, Kim Hunter, and Karl Malden all won Oscars.
In this production of Streetcar, which opened Sunday at the Broadhurst Theatre, the actor doing her own kind of memorable howl is Nicole Ari Parker, whose Blanche DuBois is the whole story of this stylish revival. Playing Tennessee Williams's famously ruined Southern belle, she tears up the stage so soundly that the rest of the performances seem to fade into the background.
Seamlessly transformed from a collected — if postured — school teacher to a weeping wreck, Ari Parker beautifully captures Blanche's sense of measured self-delusion throughout. When she tells her meek sister Stella that the family's estate was lost through their family's "epic fornications," and that wealthy suitors are on their way to rescue her, you believe that she believes it. Her final moments of madness land like a punch in the stomach. At the performance I attended, you could hear members of the audience saying her famous closing lines along with her. While that probably sounds kind of annoying, I actually saw it as a sign of total audience investment. They really were hanging on to every syllable.
Beyond her performance, however, this Streetcar, which is directed by Emily Mann, feels more serviceable than stunning, and as though it's more or less just trying to stand out of Ari Parker's way. Underwood gets the job done as Stanley, but the character's sense of animalistic force is interpreted so literally that he doesn't have much room to modulate. There's no anguish in his bottom-of-the-stairs "Stella!" He just sounds angry. Likewise, Rubin-Vega's Stella does what she needs to do — hand-wring and flounder — but her performance gets lost in the shuffle.
There are other things to admire about this production — namely, its handsome production design and a spate of gorgeous costumes. Even when they're falling to pieces, the sisters DuBois look fabulous — Blanche in an avalanche of sequins and lace and Stella in simpler house dresses. And Mann does capture a sense of roiling, sweaty New Orleans, with the help of Terence Blanchard's smoky jazz underscore. But ultimately, it's Ari Parker who leaves the strongest impression. Part of me wants to cheer because the play's true protagonist is fully in charge — instead of being out-shouted by Stanley. But part of me just wishes that she had a more formidable company in her weird little world.