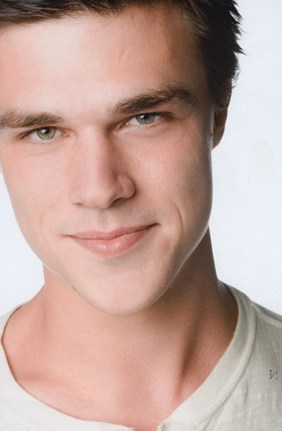 Kids! Welcome to our new mini-interview series with theater up-and-comers. Our first subject is the handsome young staaah of The Signature Theatre's production of The Illusion – Tony Kusnher's brainiac adaptation of Pierre Corneille's 1636 play L'Illusion Comique. We chatted with him about the formidable Mr. Kushner, playing with onstage weaponry, and his past as a soap opera hunk. Read on…
L: So where are you from?
Finn: I'm from L.A., and I love L.A.. I went to school in New York and lived here for like two years. I went to Juilliard. Then I got the soap opera [All My Children] and it took me out to L.A.. I kind of moved back home for the show.
L: So you're truly bi-costal, then.
Finn: Yeah, I'm trying to maintain the life. [Laughs.] So far I've been able to do it.
L: It sounds like Tony Kushner was completely hands-on in the way that he worked on The Illusion. What's that been like?
Finn: He was, very much so. He has a remarkable ability to talk to actors, and he has an MFA in directing. He can get under your skin and talk to you about where you're coming from. He'll never give a note like, "Be faster," or "Be louder," but the effect will be to make you faster or louder.
L: Was there any intimidation factor there?

Finn: When I auditioned, I was wondering if I would see him, and if he was going to be in the room. And he came out of the casting office and was like, "Hi. Will you do this scene instead? They didn't give you enough of this side, so…" And I was like, "Oh, OK. Thank you, Mr. Kushner." He's the most affable, personable person. There's no pretense at all. He's really all about the work. And he's really gracious. That was a relief.
L: What's your favorite part of the show?
Finn: Well, the sword fight's fun. And I really love the last scene.
L: Any special training for that sword fight?
Finn: I'd done sword fighting and so has Sean [Dugan, who is also in the scene]. We both have been professionally trained, but it's been a while. But the choreographer came in and gave us a refresher.
L: Is there any like, actual danger involved?
Finn: I fell off the piano in the third preview. I did a faceplant and almost took down one of the drops. Besides that, nothing's happened.
L: Going back to All My Children for a sec. Who's crazier, soap opera fans or theater fans?
Finn: Soap opera beats theater, by far. They are the most loyal, die-hard fans that you'll possibly meet. And what's really surprising is the places where you'll find fans. I was taking the A train and I was up on 145th Street, and this guy stopped me and was like, "Hey, you were on All My Children! I'm so sad that's ending." A bouncer at a bar I was at the other night was a huge fan and bought me a drink. They come out of the woodwork, and most of them have been watching the show as long as I've been alive, so they're kind of more attached than I am.
L: What's next for you?
Finn: I'm starting to audition for stuff again. Hopefully it'll be something that takes me back to L.A.. I wrote a screenplay with a friend, and it looks like we might be shooting that – low-budget style – in the fall. It's called The Submarine Kid, so look out for that.

L: So you're a writer, too.
Finn: I'm trying to be a writer. I've written some plays and my friend and I have collaborated a bit.
L: So, when we first saw you in The Illusion, we were saying that you looked like the most perfect Disney Prince we've ever seen. If you had your choice, which one would you like to play?
Finn: I forget his name. What's the prince's name in Sleeping Beauty? That's like, my favorite movie. He's the one who fights the dragon. Prince Philip!
L: Also, you were recently in a reading of Picnic. How was that, and any word on whether it's happening?
Finn: It was pretty amazing. It was like, all these superstars and me! I kind of had no idea what I was doing there. That would be a dream, to be in that play. And what a great part for Melissa Leo! She would just knock that out of the park. I hope someday it gets produced. Knock on wood.