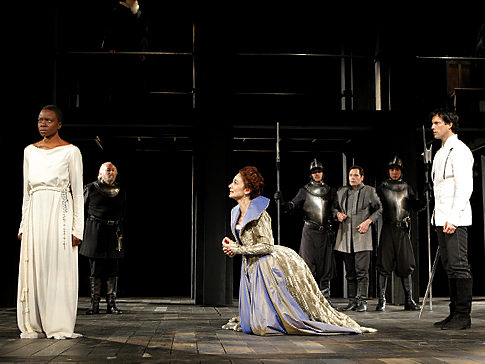 There are pimps! Whores! Dildos! Babies born out of wedlock!
This week's episode of 16 and Pregnant? No, sir. It's Shakespeare in the Park.
In David Esbjornson's production of Measure for Measure, one of Shakespeare's famous "problem plays", morality gets a little slippery. Or maybe it doesn't. Maybe it just depends on who's making the judgment.
Take, for example, the judgment of the fair-minded but flaky Duke, who immediately hightails it out of town. Or of the draconian Angelo, the Duke's buddy who gets left in charge. To say that they have a different managerial style is an understatement. Once Angelo is in charge, he starts shutting down the whorehouses and jailing the fornicators, including Claudio, who lands on death row for knocking up his girlfriend.
In this Shakespeare in the Park production, which runs through July 30 at the Delacorte Theater in Central Park, Esbjornson uses fetish gear, dungeon-y sets, and a couple of slinky demon-like creatures to highlight the darkness — the phantom-y, subconscious urges — rumbling beneath Shakespeare's play. (Of note: The demon guys have visible penises, and look sort of like Mr. Mistoffelees after several decades of whoring and meth.)
This could all get very dull, very quickly. I mean, let's be real. A costume that mimics nipple piercings, at this point, probably wouldn't even shock your grandmother. (Because she watches 16 and Pregnant, too.) But Esbjornson's commitment to telling the story in a way that's both sensible, and sensitive to a contemporary audience, makes for an enjoyable night in the park. A handful of fierce, funny performances lubricate things nicely, too.
Of note is the radiant Danai Gurira, who plays Isabella – Claudio's sister, a young nun who falls prey to Angelo's lustful intentions as she pleads for her brother's freedom. Armed with a couple of badass monologues, and a costume that makes her look like an angel about to levitate off the stage, she finds just the right amount of rage to level at stupid Angelo. That we believe in Angelo's badness — all his hypocritical chin-stroking — is a credit to Michael Hayden, who plays him.
The comic roles too, stand out. (Yeah, this is a comedy, did I forget to mention that? Well, Shakespeare kind of forgot to mention that, too, but no matter.) Carson Elrod is particularly great as bartender-cum-pimp Pompey. Done up like a rockstar, including the requisite stripe of color in his hair, he's good for a few much-needed laughs.
We need them most in the end, when Shakespeare's characters all somehow end up married to each other, despite a distinct lack of love and good sense. Isabella's pairing with the Duke himself is presented in a particularly riveting way. I won't spoil, but let's just say that her silent reaction—one of the hallmarks of the play—brings things nicely up to date. And in the end, the actors take their bows to… what else… "Sympathy for the Devil."