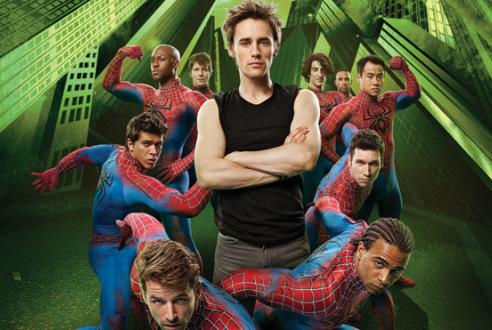 The absolute minute the cover article about Shirtless Spider-Men appeared in/on yesterday's Time Out New York, we knew it was meant just for us — and every other red-blooded, hormonal man and/or woman across the city of New York, and indeed, the internet itself.  But mostly just for us.
Then we read the article. Our first thought? Some seriously good material must have hit the cutting room floor.  Because how could anyone be in a room with that many shirtless dancers and aerialists and general hotties and come out with an article that's so… clean?
Below, our attempts at reconstructing the questions that simply must have been edited out:
For Reeve Carney: You are disgustingly beautiful, but did anyone tell you this article is supposed to be about your hot body?  Could you take your shirt off?  No, no wait, okay could you uhm… put it back on?  Thanks. No offense, it's just… abs aren't really what we keep you around for, am I right?
For Chris Tierney: I was expecting to see abs of steel under your shirt. Is this what happens when you fall down and go boom? Six-pack abs go poof? I'm sorry, that was cruel. No matter, though, I'd still hit it. The invitation stands.
For Dollar Tan: Are you aware that you kind of have a stripper name already? Also, I see you have a hip tattoo, but it looks like at least half of it descends into your shorts. In the interest of being thorough, could you just… slide your pants off and let me see the rest? You know, in case my editor asks. I have to be prepared; it's all part of the job.
For Brandon Rubendall: You were mentioning that you think legs workouts are key and it got me thinking… I could use a leg workout right now. I can demonstrate my favorite move for you, if you'd like.  First, I put my leg there, and then…
For Gerald Avery: I love your kicks, and your up-dog, but are there any other positions that you really like? The Side Wind-Her? The Spider Web?
For Emmanuel Brown: Has anyone ever commented on how truly impressive your nipples are? Oh wait, I just did.
Photo: Dale May for Time Out New York