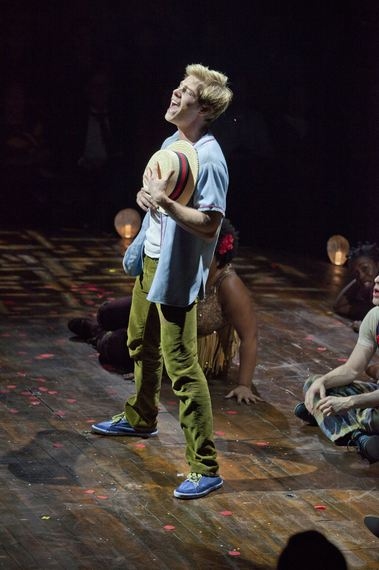 Thank God.
That's what I kept thinking over and over at my seat in the Circle in the Square. And not because my lapsed Catholic self was suddenly feeling faithful again. No. I was just relieved this production of Godspell didn't suck.  Because there is nothing worse than a bad show that ends with a crucifixion. Nothing. (Shit! Sorry. Spoiler alert: Jesus dies. You know, like he does in every single Gospel in the New Testament. Godspell is a plotless sort of re-telling of the stories of the Gospel of Matthew, after all.)
But before that public death scene, this production of Godspell—staged by Daniel Goldstein as a sort of… kindergarten class putting on an impromptu playground pageant directed by their classmate Jesus—is a heck of a joyride. From the magical, breathless moment that John the Baptist breaks through the darkness and confusion of the "Tower of Babel" scene, like a river breaking through a dam, and through the beginning of the second act, it's hard to wipe the smile off your face. Or keep from singing along (in fact, the drunk women in the second row actually couldn't stop themselves).
There are moments where the enthusiasm wears thin—you'll catch them when Hunter's beautiful smile becomes sort of… aggressively happy to the point of manic.  And sometimes the fun doesn't entirely make sense, like the trampolines in "We Beseech Thee." There are moments you wish they'd just get to the next wonderful song, too. But it's really, really hard to stay mad at this talented cast.
Lindsay Mendez can belt to melt your face off. And Telly Leung moved me to tears with his rendition of "All Good Gifts." Nick Blaemire's slapstick comedy is genuinely wonderful, particularly when he's paired with the equally zany Julia Mattison (an understudy who performed for the injured Morgan James throughout previews). Wallace Smith's Judas is strong, and his "On the Willows" will actually break your heart.  It's seriously a shame he's getting upstaged by the Last Supper at this point… you should take a second to watch his performance if you can.
And then, there's Hunter Parrish. Jesus Christ, Hunter Parrish. The boy is resplendent. He's got 600 million teeth in his face and you can see all of them at almost all times because he's smiling so damn big and light is radiating off him like he really is the sun and not just someone playing the Son of God. He can't dance for shit but it's so amazingly adorable to watch him give it his all that you kind of don't even care.
His performance is, admittedly, imperfect.  The aforementioned moments where his smile verges on manic are a little disconcerting. But Hunter is at his strongest after Jesus' ridiculous temper tantrum in "Alas for You" (worst song!), when he can be vulnerable. In particular, his "Beautiful City" is deeply heartfelt and his Last Supper farewells are heartbreaking.
But let's be real. For a show about Jesus, Godspell isn't really about Jesus at all. And with that beautiful smile of Hunter's and the talented cast goofing off around him, this production is pretty hard to resist.
Photo: Jeremy Daniel