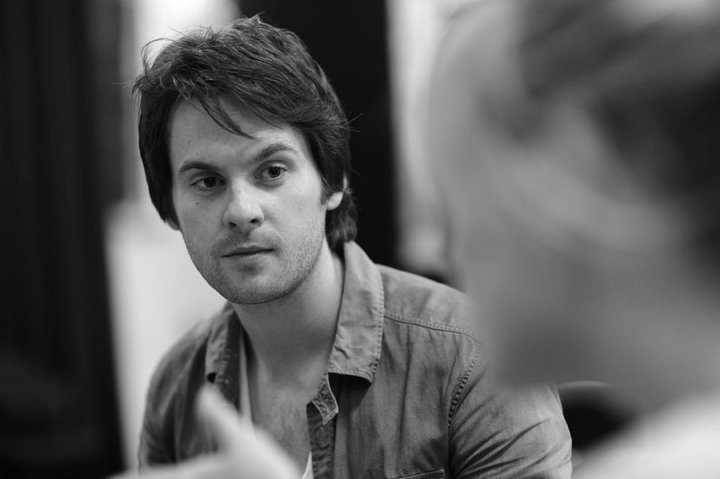 So. Lucky and I failed kind of hard at London Theater last weekend. You'll hear more about that later, but I bring it up now because there was one thing that went just as planned.  Saturday night we saw Tom Riley in Stephen Poliakoff's My City at the Almeida Theatre in Islington and for the first time all weekend, we were exactly where we were supposed to be.
Where we were…
The Almeida is a tiny little theatre that lies just far enough north that it fell off the edge of all our tourist-friendly London maps.  The former Salvation Army Citadel—and music hall, and carnival novelties factory—seats around 300 people and has an expansive stage with a beautiful, curved, back wall that was prominently featured in the set. The combination of the expansive stage and small auditorium reminded me a lot of being in the Public's Martinson Hall at home in New York.  And in fact, by the end of the night I really did feel at home in the Almeida.
What we saw…
On one level My City is the story of a Richard, a young man who runs into an influential childhood teacher—while she's splayed out on a city bench late at night, just chillin, nach—and attempts to reconnect with her.  On another, it is a story about storytelling itself and the way it influences our day-to-day lives and our experience of the world around us, the way it helps us get through each new day.
Who was in it…
Tracey Ullman—unquestionably the most famous person on that stage—turned in a fantastic performance as Miss Lambert, the teacher Richard is attempting to reconnect with and understand. The scenes where Ullman teaches the audience through Miss Lambert's unique storytelling style are so compelling you immediately recognize how this teacher could so profoundly touch a child's life.  And Siân Brooke—the name is Welsh, y'all, I Googled it—as Julie, Richard's schoolmate and fiercely protective friend, offers real heart and a much needed dose of humor with her brash performance.
What we loved most…
But to be completely honest, our favorite part of the show was Tom Riley.  We adored his sexy/brainy turn as Septimus Hodge in last Spring's Broadway production of Arcadia, and we adored him in My City as well. It really is Tom's show. He charms your pants* off, and breaks your heart, and at times makes you wonder why his character keeps pushing onward when each new word obviously hurts so much. Riley embodies Richard completely and he owns the stage. By the end of the show you just want him to tell you stories for the rest of your life. His performance alone made our night, our screwy days, our trans-Atlantic flight with a layover in Iceland all worthwhile.
After the show Lucky and I stayed for a few minutes to say hello to Tom. After all, we've interviewed him in the past, and now we'd flown across an ocean to see his show. Saying hello seemed necessary. For anyone wondering, he's ridiculously kind, and yes, he gives a great hug.
When it was time to go, I was actually sad to say goodbye, both to Tom and to the Almeida, where I'd felt so at home and where, for once on our crazy little trip, everything had turned out perfectly right.
*I've recently been reminded by @mildlybitter that Brits call pants "trousers" and use the word "pants" to refer to underpants. In this case, I do in fact mean to imply that Riley charms all of the above garment types off your body. Per usual.
Photo: Hugo Glendinning