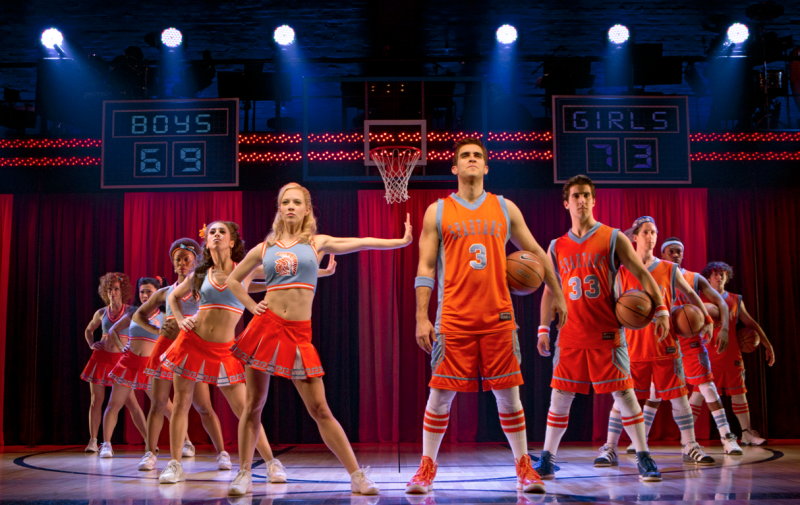 Tell me a good story. And don't bore me. Those are the two basic things I require in the theater. If I'm seeing a musical, I need at least three good songs. Preferably five. Doesn't seem like much, right? Except… in my experience, those are some shockingly high standards to meet.
Which is why it's always such a pleasant surprise to sit down in the theater and find a show that can do all those things at once. All three of 'em. And thank god (the gods? Zeus?), that's the experience I had at the Walter Kerr a couple weekends ago, where I saw the new musical Lysistrata Jones.
Because damn have I had a rough run this year. I can't remember the last time I was really, truly excited about a Broadway musical. I suspect it was Bloody Bloody Andrew Jackson last fall. (Okay, that Mormon musical wasn't so bad, either.) Which is sort of an apt point, because interestingly enough, I think Bloody Bloody and Lysistrata Jones have some things in common—chief among them the fact that they are both musicals written by and for a new generation of musical theater enthusiasts.
This is not your Grandmother's musical. I mean, the book—a loose adaptation of Aristophanes' Lysistrata, written by Douglas Carter Beane—is full of dick jokes, modern slang and pop-cultural references. And it is aggressively ridiculous at times.
But it succeeds, not because of or in spite of these things, but because it's telling a great story with a lot of heart. And at the end of the day, that's what matters most. On the surface, Lysistrata Jones is the story of a young woman who is tired of watching her school's basketball team lose, and who takes some drastic measures—a sex strike!—to push the boys to victory. But just beneath, at the heart of the story, is a young woman who is terrified by the prospect that the world around her has become completely devoid of passion and all too happy to settle for mediocrity.
It is that story—a young woman's search for passion and life in this world—that grabs hold and doesn't let go. A stream of great jokes—I mean, you KNOW I loved the "Instant Boner Material" gag—and pithy dialogue, interrupted by occasionally great songs doesn't hurt the cause, either. And the performances, oh, the performances.
Patti Murin, playing the title character, is utterly divine. She's bright, perfectly chirpy, and damn can that girl sing. Just WAIT until you hear her belt out "Where Am I Now" at the end of the first act. It hits you like a steam train, and is, honestly, one of the first truly, transcendently awesome moments in the show.
Josh Segarra plays Mick—OMG YOU GUYS WE HAVE THE SAME FAKE NAME!—the captain of the basketball team and Lysistrata's boyfriend. While his singing is not a performance highlight—with a vocal range that sounds limited and lacking power, his singing mostly just gets the job done—his acting is spot-the-fuck-on. Honestly. Every facial contortion, every stupid (but weirdly insightful) line, is perfect. He had me cracking up in my seat, and his performance really elevated the slap-sticky material. Also, he looks disturbingly good in a sparkly white skirt with a dead bear wrapped around his shoulders. Actually… he just looks disturbingly good all the damn time.
Then there's Lindsay Nicole Chambers, who plays Robin, the poetry-slamming library assistant Lysistrata befriends. She came out of nowhere—honestly, I'd heard a lot about Segarra and Murin before I saw the show, but not a peep about Chambers—and she was wonderful. Funny, sweet, appropriately weird and nerdy… her performance is an all-around slam-dunk.
And lest I forget, Liz Mikel, who plays Hetaira—a muse/courtesan/brothel owner who also leads the audience through the show—is completely badass, too, and her powerhouse vocals are a joy. But it's her comedic performance that's the real highlight. It's a rare to see a woman given the opportunity to give such a raunchy, physical comedic performance on stage, and Mikel makes the most of it.
Other things of note: set designer Allen Moyer made great use of the more traditional Broadway setting by building the basketball court on stage so that it makes the audience feel like they're on the court, too. The band is great, and frankly, loaded with cute boys I'd love to chat up in the bleachers (or, you know, at a bar). And the music and lyrics by Lewis Flinn, though occasionally spotty, score a few big hits including "Where Am I Now", "Hold on" and "When She Smiles."
Photo: LysistrataJones.com