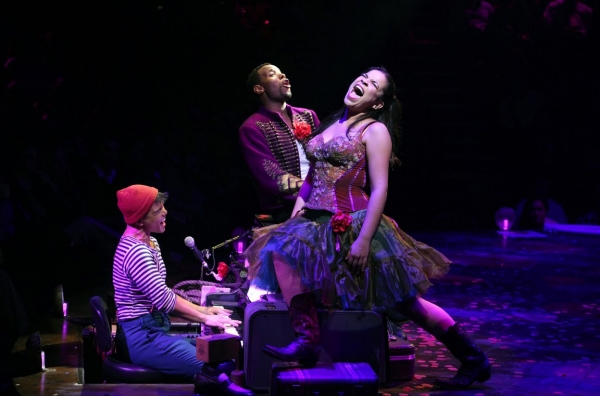 If you've gotten anywhere near the Circle in the Square lately, you know that the lovely Lindsay Mendez is blowing the roof off eight times a week in Godspell. We caught up with her backstage at Drew Gasparini's gig at Joe's Pub, where she chatted about all the important stuff — shopping, hot boys, and the serial killer musical that Drew is writing for her.

Lucky: How did you and Drew first cross paths?
Lindsay: We met about a year ago. He wrote to me and sent me a bunch of his work, and I really loved it. And he gave me this song called "Make Me Bad." And then he told me the premise, and I was like, 'You should write a musical out of this song.' Now, the wheels are spinning. It's about a girl who's in love with a serial killer, and who starts killing people herself. I'm very excited about the project.
When we came in here, we knew you'd show up in an amazing dress. Because you always do.
I always tell my husband that I can't show up in the same thing twice. I have to show up in a cute dress. And he's like, 'No you don't! Don't worry about it.' But people notice! And I love to shop. This is a Lord & Taylor purchase. I am a very loyal Lord & Taylor shopper. I love clothes and I've lost weight and I feel really great, so now I really love clothes.
Any other favorites?
Anthropologie, I love so much. I like Macy's. I like huge stores where I can shop a lot. And then certain little boutiques I like. There's one called Monarch Boutique, on 47th between 8th and 9th. They have great stuff there.
You were on our end-of-year Broadway hotties list. Who are your favorite Broadway hotties?
First I'm going to say Hunter Parrish, of course. Gavin Creel, who is such a hottie, and he's my heart. Sherie Rene Scott. Kellie O'Hara, she's gorgeous. There are so many people I'm obsessed with. Oh, and Danny Burstein!
And of course, we have to ask this very important question: Do you sing in the shower?
Yes, every day.
What songs do you sing?
I start with the prologue from Godspell, because I'm usually trying to see if I have a voice. I usually end up in some sort of Ella Fitzgerald land, whether that's "Blue Skies" or "Our Love Is Here to Stay". That's usually where I go after that. I don't usually sing musical theater. Every once in a while, I'll try "Bless the Lord" just to see if I'm going to embarrass myself that night, but normally it's jazz. I love to sing jazz.
It's a shame that this performance stays in your bathroom.
Oh, I'm getting phlegm out. It's a nightmare. When you do a Broadway show and you wake up every morning, it's a test. Can I walk today? Do my feet hurt? Can I sing? What's my voice doing? That's my test. It's not that great, what goes on in there.