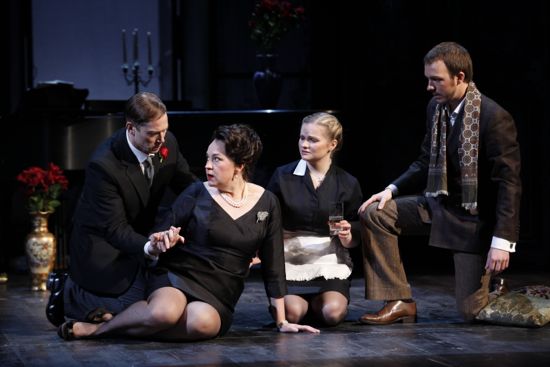 It has been made abundantly clear that Stephen Sondheim doesn't like opera. This is fortunate, because this post isn't about him. And because no matter how strongly he dislikes opera, there is no sense in pretending that it and musical theater are entirely disparate. That they're like random people who pass each other on the platform of the A train. Maybe one looks at the other and thinks, "I like your shoes," but the relationship ends there.
I don't believe it works like this.
I believe that musical theater and opera are more like cousins who are the same age, and grew up in the same city. They've moved away and have their own lives now, but they still send each other birthday cards, and they still get together once or twice a year for a really fun girls night and it's always a good time, because they have just enough common history, and friends, and tastes, that the relationship never feels tedious. And of course, they both like to sing.
I'm telling you this because The Mick and I saw an opera on Sunday. And we usually don't talk about opera here on The Craptacular, not because Stephen Sondheim hates opera, but because opera is generally in another language, exceptionally expensive to attend, and approximately three hours long. And because 10 Hilarious, Totally Accessible Opera Moments on YouTube is like… not an easy, or a fun piece to write.
But I want to tell you about this opera we saw on Sunday, because it was written by someone who is not typically a writer of operas, but of pop songs -– Rufus Wainwright.
Now, it's not like this opera came totally out of left field for Rufus. It's not like, "Oh. Katy Perry wrote an opera." Because Rufus Wainwright is obsessed with opera. Opera metaphors –- musical and otherwise -– appear everywhere in his work. In fact, his first music video ever –- for the song "April Fools," which is secretly the greatest pop song of the last decade, just FYI — featured him and a bunch of opera divas.
I always found Rufus's opera obsession, like everything else about Rufus, to be hopelessly cool. And I was dying to see New York City Opera's production of Prima Donna.
Because like… what would it be? Would it be pop songs sung in an operatic way? Would it be kind of like a musical, where the language and the presentation feel contemporary? Would it blur the lines between the forms?
The answer is… sort of! But not really. Because it's absolutely certain that Prima Donna, which opened on Sunday at BAM –- that's in Brooklyn; ever been there? — doesn't pretend to be a Broadway musical. It's a damn opera. It's in French. It's structured like an opera. It's sung operatically, like Carmen or La Traviata would be sung, and by opera-trained singers singing in an operatic style.
The story focuses on a faded opera star who's about to make her big comeback, only she's kind of a headcase and can't get it together. Really, that's all it's about. There are some sideline shenanigans with a maid, a journalist, and an evil butler, but the opera singer is really the whole story.
The show's lovely star, soprano Melody Moore, is an opera singer for real. She's done La Boheme and The Magic Flute and a dozen other classic roles –- but she also starred in Seance on a Wet Afternoon (by Stephen Schwartz) and has been directed by Des McAnuff (in Faust). So the question is pretty compelling: If you're an opera singer, and you're singing songs by Rufus Wainwright and the guy who wrote Wicked, are you still singing opera? (Related: If you're Jonathan Groff and you're in a classical Greek play with music by Philip Glass, do your pants still sparkle when the house is half-empty?)
Likewise, there are elements of Prima Donna that don't feel quite musical-y, but don't feel like traditional opera either. For example, take Prima Donna's insanely beautiful overture, which feels mournful and melody-saturated enough -– and contemporary enough –- to be a film score. Or the song at the top of the second act wherein the young maid compares her provincial hometown to nutty Paris. The latter, if it had been in English and sung by Audra McDonald, could have opened the second act of any musical this season. Well, any musical this season about a headcase opera singer that features an innocent young maid as a sort of overly obvious foil.
Maybe my brain is going in this direction because so many contemporary musicals have embraced the all-music-all-the-time format. (I won't call them "through-sung" since reading Finishing the Hat. I know, it's like an infection.) American Idiot or Miss Saigon aren't necessarily operas, but maybe these kinds of popular contemporary musicals help audiences see across the divide, from one form to the other. And maybe the lines aren't so clear anyway, and never have been. After all, Audra McDonald has a beautiful coloratura. And if Melody Moore wanted to play Mamma Rose next season, she probably could. Revival anyone? Paging Julie Taymor…