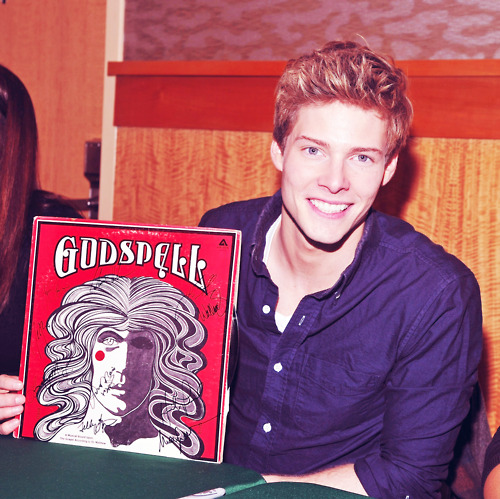 Hunter Parrish wants you to come see Godspell. Or at least, we're pretty sure that's what his beautiful blue eyes are telling us in this lovely little picture. (It's either that or "Hey girl, look at my smile, I want to take you on a charming and innocent first date. You wear your bobby socks, I'll buy the milkshakes.")
And because when the handsome, dashing, emotive Hunter Parrish wants something he usually gets it, we're here to hook you up with a pair of tickets to see the show. For free!
All you've got to do is follow @thecraptacular on the Twitter, and Tweet the following message:
Oh My #JesusParrish, @thecraptacular is giving away a pair of tickets to @BwayGodspell. RT and Follow to win!
We'll pick a winner first thing tomorrow morning, so get tweeting!
Maybe if you're really blessed, you'll be able to snag a seat at next Tuesday's show, when Jesus Parrish himself is doing a post-show talkback. We'll be there with bells on, so if you're really lucky you can probably say hi to us too.
EDIT: DING DING DING, WE HAVE A WINNER! Everyone congratulate @wheezeface, who snagged the tix.
And keep your eyes peeled. We'll have more giveaways in the not-so-distant future!
Photo: Tumblr