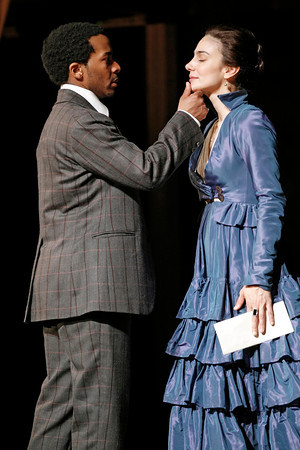 Remember that time your best friend started dating that dreadful hipster/manchild from Williamsburg who was completely unworthy of someone as smart and classy as her?  And you had to sit back and watch while he made her jump through hoops to get his attention, even though he totally did not merit any of the effort?  And he treated her like crap from start to finish? And she was heartbroken most of the time, but there was nothing you could do to save her from herself?
Welcome to All's Well That Ends Well.
Okay.  Maybe it's not entirely like that.  Back when Shakespeare was writing, women didn't exactly have the options we do today.  Our heroine Helena needs a husband, and though Bertram is an immature douchebag, director Daniel Sullivan creates a flicker of hope he could change his ways.  Maybe it's not all quite as terrible as your friend and the eternal manchild with no future.
What I'm trying to say is, there's something pretty modern about All's Well That Ends Well, now playing at the Delacorte Theater in Central Park as a part of the Public Theater's 2011 Shakespeare in the Park season.  Or maybe a better word is timeless.  We might not have that much actual royalty kicking around these days, and a bed trick would probably involve more roofies and less blindfolding, but the particulars are sort of unimportant.  You recognize these people, their feelings and motivations, their fears.  You've seen it all before.  There's something reassuring in that.  Generations have come and gone, hundreds of them, and life and love remain as complex as ever.  We soldier on.
Things in All's Well end happily enough, and Sullivan has found some way to make sense of the inherent weirdness of a comedy with so much relationship drama and a hero (Bertram) who is nigh unto impossible to love.  The comedy is played perfectly—particularly by David Manis, Reg Rogers and Carson Elrod—and Annie Parisse anchors the action with her thoughtful, eloquent Helena.  Tonya Pinkins' wise Countess Roussillon and John Cullum's blustery but powerful king are highlights as well.
Sure.  You'll probably leave the theater wondering what was going on in Helena's head.  And why so many women, past present and future, seem to seek men who don't deserve them.  But a night of classic theater in Central Park is never a bad thing.  And it's strangely soothing to be reminded that your bestie is neither the first— nor will she be the last— to fall in love with a dickhead.  And that in the end she will survive, and so will you.
Photo: Joan Marcus