This week, The Craptacular welcome's Jenna on board as our Special Jonas Correspondent.  You may know Jenna as JBomb11 on the Twitter, or from her writing over at E!Online's Watch With Kristin blog.  She's a natural brunette with an addiction to Sweet Stripes who taught The Mick to use the word boner.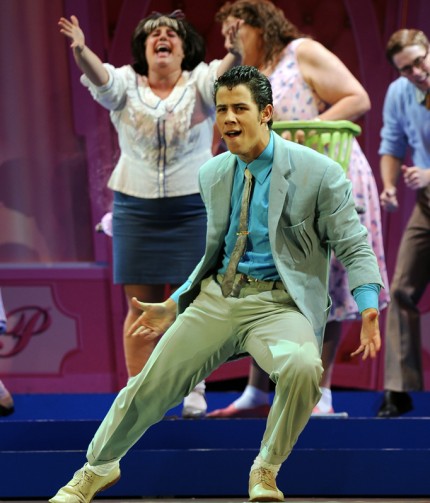 Full disclosure? I love me some Nick Jonas. I've been that creepy cougar lusting for him since he was about 17 and started looking like this. Seriously? What 17 year old looks like that?
But I digress. (Only to regress later, I'm sure).
When it was announced that my former jailbait Jonas was going to star as Link Larkin in Hairspray at the Hollywood Bowl, I knew I was going. And sure enough, August 6 rolled around there I was with my friend Tee, settling into a box seat not far from the stage. Mr. and Mrs. Jonas were two boxes over, just waiting for me to introduce myself as their future daughter-in-law. I'll marry Joe or Nick. Doesn't matter.
The Mick is one of my dear friends, and she teaches me all about Broadway: the notes that are hard to hit, who sucks and succeeds in which roles, etc.  Thanks to her I knew who Jonathan Groff was before Glee and she took me to see Bloody Bloody Andrew Jackson twice in one weekend, so she definitely takes care of me, theater-wise.
Basically, I'm not going to pretend that I'm any Broadway expert. I can pretend to be a bunny, but that's just an adorable little impression I do. I'm just a fan of theater, lucky enough to witness Nick Jonas in a hunky role. And I love Hairspray, so I was basically ready for a standard, fun evening of musical theater with a Jonas bonus.
What I got was a little more than standard fun. It was a learning experience, and after Nick Jonas gave his last shimmy shake to "You Can't Stop the Beat," I've got some new knowledge nuggets to store in the ol' memory bank:
Nick Jonas Can Dance: Not in the Justin Timberlake way that his brother Joe is trying (and failing) to mimic, but in the "I worked really hard and want to nail this" kind of way. Nick was sharp most of the time, nailing each choreographed piece with his overachieving gusto, but it was the moments where he clearly threw in some fun that he really shined. Some hip thrusts here and there during "It Takes Two." A fun little flip before "You Can' Stop the Beat." A certain swagger as he shimmied across the stage between rehearsed group numbers. I loved that he cared enough to know his choreography backwards and forwards, but when he went off the straight and narrow…he looked like a seasoned pro. Which, really, he is I mean, check out his swag during "It Takes Two" and try not to pop a chub.
Corbin Bleu Can Also Dance: But we knew that from the High School Musical movies. Still, if you didn't notice his talent as a dancer in those Disney flicks, you'll notice now. That kid made Seaweed's choreography look like an improvised dance battle. Like, "I'm just gonna move through this complicated routine like it ain't no thang." And huzah! It truly was "no thang" for him. I love watching people who kill a role without even looking like they're breaking a sweat.
Wait. So She's That Chick From American Idol? Told you I was a Broadway amateur. I didn't even know who was playing what part before going to see Hairspray! I know Diana DeGarmo is no stranger to the stage, and we all know how Lucky and The Mick felt about her in Hair. But she stole this show. It could easily have just been the role of Penny Pingleton, which is tailor made to be all kinds of ridiculous. But I loved what she did with it. You could tell she was having an absolute blast playing Penny. And we weren't distracted by her big vocals until the end, and by then, we were eager for that burst of vocal power from DeGarmo.
Glee Must Have Stolen John Stamos' Soul: Because as Corny Collins, he was phoning it in at best. Look, he's very attractive. He's got a smooth voice. And Stamos will always have a certain sexy vibe. But my eyes were not interested in following him when he spoke or did…anything. He really could have just been a voice over dude. Which sucks, because I enjoyed him on Glee, and I felt like he could have had more fun in the role. It was more like "I'm saying a line…now I'm saying another line. And here's another one." Ditto for Drew Carey as Wilbur Turnblad, but no one cares about that role much anyway. Oh, well. Back to watching Nick Jonas stand in the corner and react to something.
Originals Stick Out Like an Awesome Thumb: I wasn't aware until reading the program that Harvey Fierstein and Marissa Jaret Winokur were originally Edna and Tracy Turnblad in the Broadway production. But I could have made that deduction myself during the show. Clearly, the original cast members were driving this Hairspray train, and every other cast member was along for the ride. Overall, I just really enjoyed Winkour and Fierstein's near flawless performance. After all those performances together on Broadway, I guess it would be embarrassing if they weren't nailing their parts. But thank Groff they had originals in the two of the biggest roles, because the production probably would've just been "meh" without them.
I also hear this production had little rehearsal time, so any issues with chemistry can be chalked up to that, right? Bottom line, I give Hairspray's Hollywood Bowl production a solid B+. Wait, how do musicals get rated? I give it four stars out of five. Two thumbs up. An 8 out of 10. Will someone tell me how the hell to grade the show?
Whatever, I fucking liked it a lot.
Photo: SocialiteLife.com