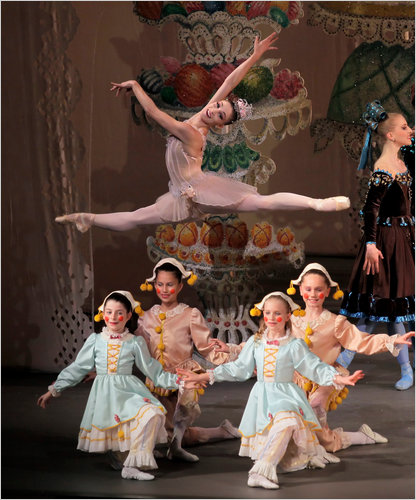 Today, The Craptacular goes where it has not gone before — the dance world. Below, our special dance correspondant, Mark Panzarino, shares his thoughts on George Balanchine's The Nutracker, which is being shown in cinemas across the country, and on PBS.
In George Balanchine's 101 Stories of the Great Ballets (written with Francis Mason), he notes that he was always changing his 1954 version of The Nutcracker.  It is well-documented that "Mr. B" — the most famous 20th century neo-classical ballet choreographer — was in constant revision of his  work to suit the needs of his  day. I could not help but wonder while watching last night's first live-in-HD New York City Ballet cinema-broadcast of this ubiquitous production what the master might change were he still alive today.
Given the recent trend of hyper-awareness of bullying everywhere — thanks, Glee — for the first time, I noted that most of the Act 1 choreography for young dancers is not designed with kindness.  Fritz, Marie's brother, pulls  his sister's hair (twice); children repeatedly tug on Drosselmeier's coattails to get his attention; they steal and break each other's' toys; grab at snacks; and  harass each other with horns and drums en masse.  Were Mr. B here to see Jonah Mowry's YouTube video or the "It Gets Better Project", would he have adjusted his work?  Certainly, the choreographer knew how to tap into the zeitgeist.
George Balanchine's The Nutcracker, as it stands, is about spirit, and tonight's orchestra kept our spirits light.  Clotilde Otranto conducted with sforzando throughout.  The orchestra sounded particularly fine-tuned and composed.   The "Snow" scene certainly sacrificed clarity for speed (as did the additional Sleeping Beauty passage), yet this was a small price to pay, given the full presentation of  both acts, combined with Kelly Ripa's introduction and intermission.
Kelly Ripa, by the way, who hosted, appeared more than slightly ripa'd.  Yes, she imitated a ballerina in a tutu at an audition.  Yes, she told the pre-pubescent-bunheaded girls to come to her for ballet advice.  Yes, she mispronounced "ballet." Fun! Kelly Ripa is the new Alec Baldwin, with significantly more facework.
In Act 2's Land of the Sweets, many featured principals in the company stood out — Tiler Peck in the Marzipan variation was especially musical (reminding me of Kyra Nichols), and Daniel Ulbricht added unique twists to his Candy Cane, while Megan Fairchild was an unadventurous if competent Sugarplum Fairy.
Ashley Bouder performed as Dew Drop in the "Flowers" section. (She and I have frequently butted heads on NYCB policies and politics via Twitter, but except for one short comment, I have yet to voice my opinion about her artistry.)  Ms. Bouder has often been subject to harsh artistic criticism by the press.  This is completely understandable: her technical capabilities surpass every other dancer within the company.  To measure somebody with such prowess and artistic potential by the same standards as any other would be demeaning to her and to the form.  No, it's probably not fair, but there it is.  She's better than the rest: she's the best.  One watches her work and sees a gift being squandered and stifled.  Her sense of center and balance and strength and dynamic and clarity and well… the list could go on.  And there she is, performing second lead in a company which specializes in one choreographer who passed away 28 years ago, whose most notable works were created more than 20 years before that.
This is not to say Ms. Bouder is not without he flaws.  Her initial attack can be needle-nosed, especially for "soft" roles such as Dew Drop (a problem of interpretation other critics have noted before, particularly in Swan Lake).  I don't think her facial expressions are as problematic as others have detailed — she's no Kelly Ripa — though I do think a make-up reevaluation and brow-line softening might be in order.  She could do with greater release and breath through her trapezius. One wonders if she has levels of ballon short of 747-height.  These are such flaws?!
No. Her sole flaw lies in the limited range she allows her work. Perhaps Ms. Bouder could take a lesson from Mr. B's original notes and make more changes within her own work, much as he did with his during his lifetime.  The trick, it would seem, for such an outstanding artist, is to have a greater pliancy, instead of forcing her idiom to remain frozen in place.  "Ballets have short lives," Mr. B said.  So do dancers.  One wonders what Ms. Bouder's next move might be.
photo: New York Times
Mark Sean Panzarino was hand-selected at the age of 6 to study with Nina Youshkevich, protégé of Bronislava Nijinska. His education continued at the School of American Ballet, the Joffrey Ballet School, and the David Howard Dance Center, before joining Miami City Ballet as an apprentice in 1990. He has performed, choreographed, and taught at Broadway Dance Center, Dance Theatre of Harlem School, American Ballet Russe, Metropolitan Repertory Ballet, the Choreographic Lab at Steps on Broadway, Renaissance Dance Ensemble, Eugene Lang College at the New School, Tampa Bay City Ballet, InMotion Dance Company, and Texas Dance Theatre. Additional artistic projects include a sculptural work of mixed media featured prominently in the lobby a building listed on the National Register of Historic Places. A book of short poems was published in 2002. Mark is an ordained minister in the First Church of Atheism. He lives in Manhattan with a 14-year-old Dalmatian.