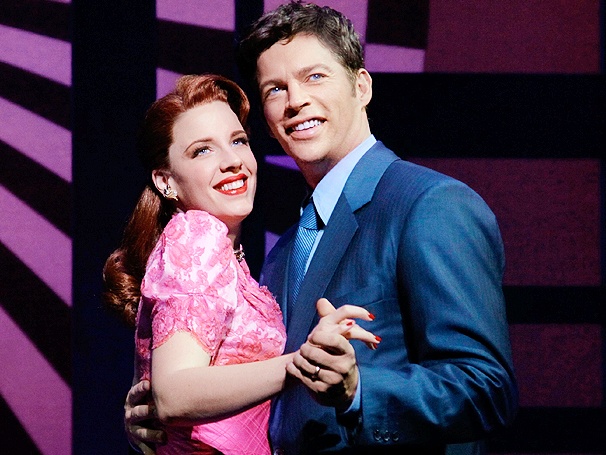 In the two years that we've been running this web site, I'm not sure I've known a show to open amidst such immensely negative buzz as Michael Mayer's revised sort-of revival of On a Clear Day You Can See Forever. I don't know a single person who liked it.
It's strange to walk into a show under that cloud, knowing that people whose opinions you respect feel a certain way about something. It is even stranger to disagree with them, which is what happened when I saw the show, which opened at the St. James Theatre on Sunday.
I have no history with On a Clear Day, and have never seen any of its previous incarnations (pun intended?). I can't help but wonder if that lack of experience contributed to my enjoyment of it. Of course, I'm not sure whether that qualifies as unfortunate ignorance or experiential purity. You're welcome to take your pick, but I liked the show.
I liked the show without thinking it's the most genius show I've ever seen, and even while acknowledging that it's kind of a mess. But still, I thought it was an ambitious, tuneful mess that attempted to do something fairly complex in a world where new, complex, big-budget Broadway musicals don't happen very often.
On a Clear Day is the story of David Gamble (David Turner), a young gay man in New York in the 1970s who wanders into therapy in hopes that it'll help him quit smoking. Instead, we discover that he has a second personality who only emerges when he's hypnotized. Complicating things, the young man's therapist — played by Harry Connick, Jr. — falls in love with the second personality, a club singer from the 1940s named Melinda Wells.
Melinda's emergence itself is so thoroughly weird and out of left field, and in a completely wonderful way. It takes some courage to topple an audience's expectations twenty minutes into a show, and expect that they will come along with you for the equally weird ride—one that asks you to think about psychotherapy, reincarnation, and the prospect of Harry Connick, Jr. kissing a guy. I was grateful for a show that never felt predictable or even remotely ordinary, and the belief that it could be staged for a modern audience. And then there are those songs.
Written by Burton Lane and Alan Jay Lerner, and taken mostly from the original production, they are endlessly tuneful and beautifully sung, care of Harry Connick, Jr., who could sing a grocery list and it would sound great. But Jessie Mueller, playing Melinda, is the lovely surprise here. Her voice is to die for—and her smoky, tremulous delivery evokes a mod Judy Garland. Hearing her sing is one of the great joys of this production.
Even David Turner, who can't exactly compete with Jessie and Harry in the vocals department, gets a lovely musical moment in the second act. When the patient finds out about his second personality—and that Dr. Bruckner is in love with her, and not with him—his rendition of "What Did I Have That I Don't Have?" brings the house down.
Other aspects don't work as well. Harry Connick, Jr., beautiful singing aside, is not always an ideal Dr. Bruckner. Though he holds court well, particularly in scenes where he addresses the audience directly as though they're attending a psychiatry convention, Dr. Bruckner's emotional connection to the scenes happening around him is always a little suspect.
And then there's the issue of Dr. Bruckner's character itself. His romance with fake Melinda never quite adds up or feels authentic, partly because we see how negatively it affects David. The show tells us to simply view Dr. Bruckner's character as flawed and lovestruck, but it's hard to get past the idea that he's doing so much damage to one of his own patients. Ultimately, he atones for his behavior, but the resolution doesn't feel satisfying or fair. We're asked to understand it in the context of another era, when the rules of the therapist/patient relationship were (possibly?) different. But how different can they actually be? "Do no harm" seems pretty standard if you're a doctor of any sort, at any point in history. And Dr. Bruckner does lots of harm. There is also a fleeting subplot about reincarnation held over from the original show, but it never quite gels or makes complete sense.
The production design, too, feels a little schizophrenic. It abounds in inkblots and geometric test patterns, like a Hitchcock movie on acid. Occasionally, though, something lovely will break through all those eye-crossing lines and dots. It's hard to argue with Melinda's frothy cupcake of a gown in the closing scene, for example, or with all that endless, radiant colored light. If you can keep the migraine away, that is.
And in the end, I found On a Clear Day's eccentricities to be endearing. There aren't many musicals on Broadway right now that have the courage to risk eccentricity—or gaudy explosions of flowers, or the occasional reference to reincarnation. Maybe I wasn't quite as hypnotized by the proceedings as David Gamble was, but in the end, that's probably good thing.
photo: broadway.com