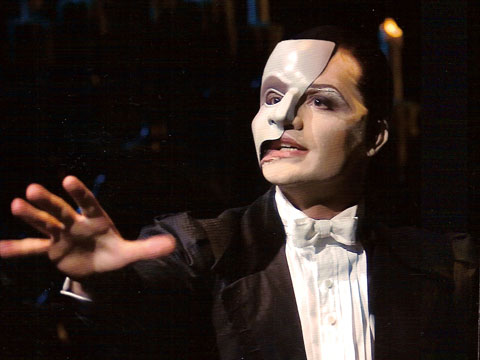 The milestone birthdays of great theater composers are often heralded with tribute concerts and revivals. People give achievement awards and make speeches. It's a good time.
So naturally, the Phantom of the Opera, as a composer himself, wants a piece of that action. His big bash — the 25th Anniversary Concert, which was recorded in London last year on the actual anniversary — aired in the US for the first time last night.
Here at The Craptacular, we love the Phantom. We love him because, as persons of a certain age, we associate him with our earliest experiences of theater. And because we love his continuing superstardom in the face of changing theater trends. And because we've never been able to answer this burning question: If the Phantom is such a magician and a genius inventor, and such a fan of creepy dolls, why can't he just fix his face?
In an attempt to answer that question – and many others you undoubtedly have – here's a roundup of stuff we've written lately about our favorite birthday boy – the OG himself. And some extras about his friends and associates.